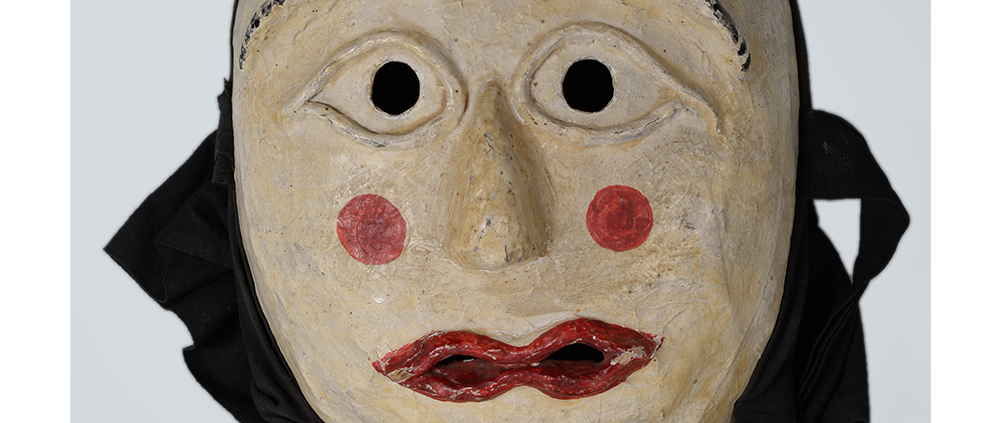 TITLE: Eldest Daughter Talchum Mask
TYPE: face mask
GENERAL REGION: Asia
COUNTRY: Korea
SUBREGION: Yangju
ETHNICITY: Korean
DESCRIPTION: Jangnyeo (Eldest Daughter) Mask
CATALOG #: ASKR004
MAKER: Unknown
CEREMONY: Byeolsandae Drama
FUNCTION: entertainment
AGE: 1960s
MAIN MATERIAL: paper maché
OTHER MATERIALS: paint; stitching; cotton cloth
Sandae noli is a type of masking tradition from the Gyeonggi region near Seoul, Korea. It was traditionally performed on seasonal holidays as part of an annual village festival. The drama is accompanied by music played on a small samhyeon yukgak ensemble, consisting of three aerophones, one chordophone, and two membranophones. The full performance involves dozens of characters in different masks.
This specific mask represents the jangnyeo (장녀) eldest daughter of impoverished aristocrats.
For more on Korean masquerade, see Jeon Kyung-wook, Korean Mask Dance Dramas: Their History and Structural Principles (Gyeonggi-do, Rep. of Korea: Youlhwadang Pub. 2005).
:
https://www.maskmuseum.org/wp-content/uploads/Asia-Korea-Talchum-Eldest-Daughter-1a.png
1000
1000
Curator
https://www.maskmuseum.org/wp-content/uploads/sf-website-logo.svg
Curator
2022-01-14 12:03:41
2023-11-12 08:24:48
Eldest Daughter Talchum Mask