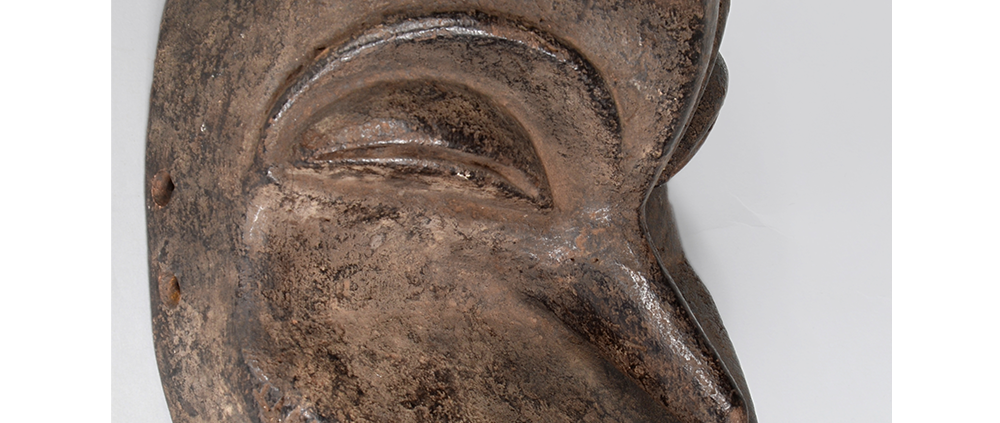 TITLE: Hemba Soko Mutu Mask
TYPE: face mask
GENERAL REGION: Africa
COUNTRY: Democratic Republic of Congo
ETHNICITY: Hemba
DESCRIPTION: Soko Mutu ("Man's Brother") Mask
CATALOG ID: AFCD003
MAKER: Unknown
CEREMONY: funeral
AGE: 2000-2005
MAIN MATERIAL: hardwood
OTHER MATERIALS: N/A
The Hemba people of southeastern Congo are an agricultural group closely related to the Luba people. They live in ancestor-based clans headed by an elder (fuma mwalo) and organized by a secret society for men (Bukazanzi) and one for women (Bukibilo).
Among the east African peoples, masks rarely represent non-human primates, because the resemblances to human beings are considered unsettling. One important exception is the soko mutu ("man's brother") mask of the Hemba. The soko mutu represents a chimpanzee, and the raised eyebrows and wide, jagged mouth are intended to be fearsome.  The Hemba dance the soko mutu mask at funerals in order to symbolize the presence of death in the form of a chimpanzee spirit. Recently, some Hemba have begun calling the mask misi gwa so'o (chimpanzee spirit).
:
https://www.maskmuseum.org/wp-content/uploads/Africa-DRC-Hemba-Soko-Mutu-1c.png
1000
1000
Curator
https://www.maskmuseum.org/wp-content/uploads/sf-website-logo.svg
Curator
2020-09-22 12:58:31
2023-11-12 08:24:44
Hemba Soko Mutu Mask