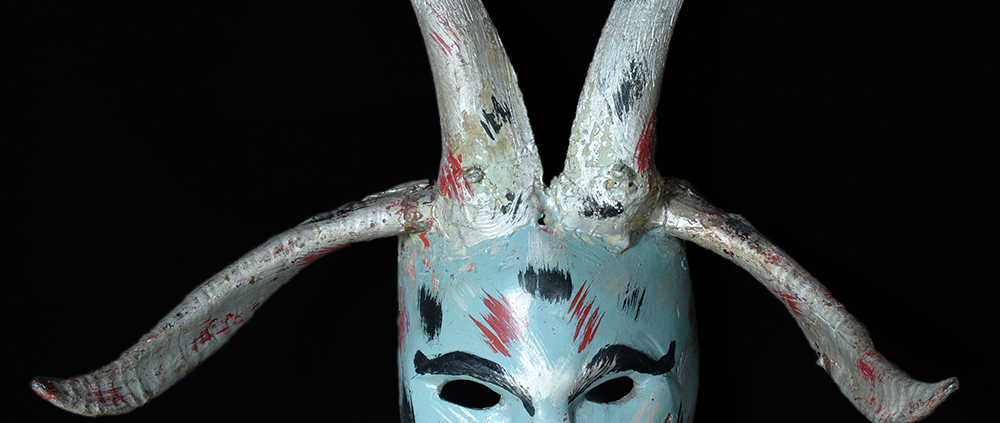 TITLE: Otomí Devil Mask
TYPE: face mask
GENERAL REGION: Latin America
COUNTRY: Mexico
SUBREGION: Queretaro
ETHNICITY: Otomí
DESCRIPTION: Diablo (Devil) Mask
CATALOG ID: LAMX108
MAKER: Unknown
CEREMONY: Semana Santa (Holy Week)
AGE: 1970s
MAIN MATERIAL: wood
OTHER MATERIALS: hardware; goat horns; oil-based paint
During Semana Santa (Holy Week) in the small mountain town of El Doctor, Queretaro, townspeople reenact the Passion of Jesus Christ in a unique manner. Participants wear stiff cloth animal masks, known as fariseos (Pharisees) or judios (Jews) and persecute a person who portrays the torture and crucifixion of Jesus of Nazareth. The fariseos make jokes and mock Jesus, but in the end are converted to Christianity when Jesus is portrayed as resurrected.  Fariseos tend to resemble animals, implying that the Pharisees are bestial.  This specific mask represents a devil (diablo), who encourages the fariseos.
:
https://www.maskmuseum.org/wp-content/uploads/North-America-Mexico-Queretaro-Diablo-Semana-Santa-1a.png
1000
1000
Curator
https://www.maskmuseum.org/wp-content/uploads/sf-website-logo.svg
Curator
2019-10-22 11:44:03
2023-11-12 08:24:36
Otomí Devil Mask