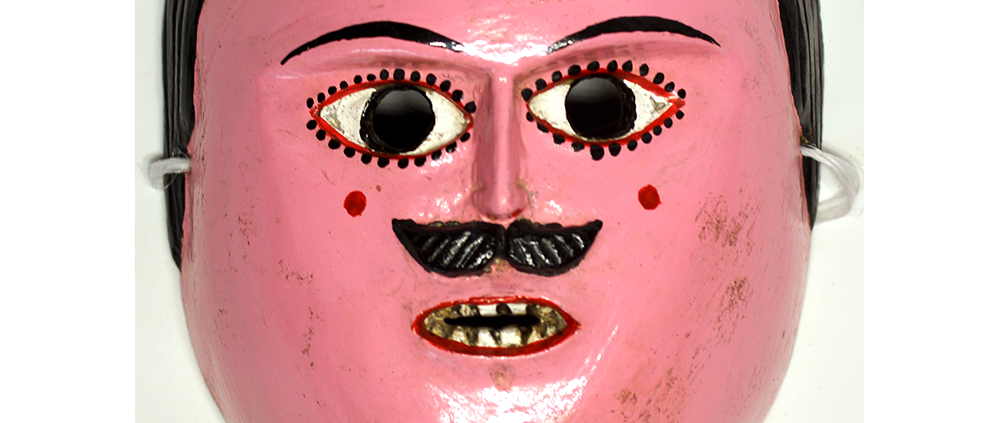 TITLE: Juan Blanco
TYPE: face mask
GENERAL REGION: Latin America
COUNTRY: Mexico
SUBREGION: Hidalgo
ETHNICITY: Otomí
DESCRIPTION: Juan Blanco (Cuablanco) Mask
CATALOG ID: LAMX032
MAKER: Unknown
CEREMONY: Juan Negro Dance Drama
AGE: ca. 1990s
MAIN MATERIAL: wood
OTHER MATERIALS: oil-based paint
The Juan Negro (Black John) Dance Drama of the Hidalgo region tells a comic tale of a struggle between a Spanish colonist and his foreman over the love of a girl. It is sometimes spelled Juanegro or Cuanegro. The Spaniard, Juan Blanco (White John), wears a light-colored mask because of his life of shady ease, while the Juan Negro (a peasant) has dark skin from working in the sun.  In the end, Juan Blanco wins the girl, denoting the injustice the unequal wealth and power perpetuates.  For mysterious reasons, the girl is played by an unmasked man in a dress.
This specific mask was made in the Huastec region of Hidalgo. The dance is also performed in adjoining parts of Veracruz.
:
https://www.maskmuseum.org/wp-content/uploads/Latin-America-Mexico-Hidalgo-Juan-Blanco-1a.png
1000
1000
Curator
https://www.maskmuseum.org/wp-content/uploads/sf-website-logo.svg
Curator
2017-06-12 09:48:21
2023-11-12 08:23:17
Juan Blanco