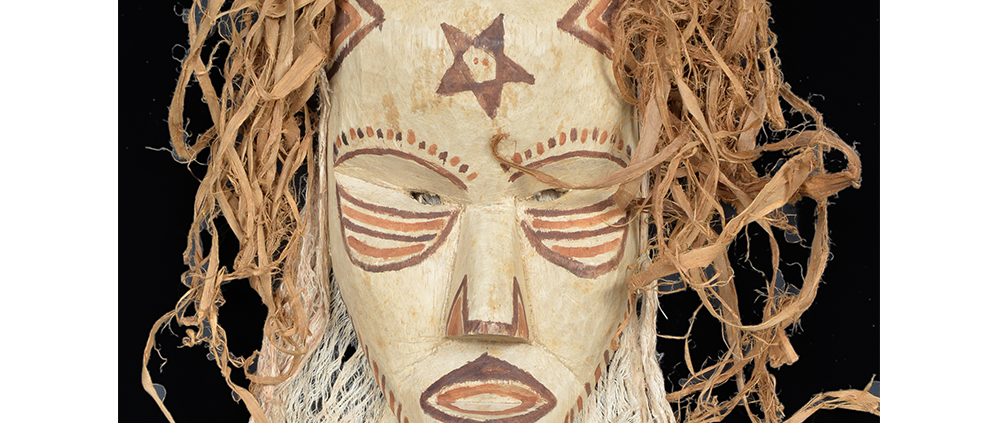 TITLE: Ticuna Shaman Mask
TYPE: mask
GENERAL REGION: Latin America
COUNTRY: Brazil
SUBREGION: Amazonas
ETHNICITY: Ticuna
DESCRIPTION: Shaman Mask
MAKER: Unknown
CEREMONY: Adult Initiation
AGE: ca. 1990s
MAIN MATERIAL: wood
OTHER MATERIALS: bark cloth; plant fiber; pigment
The Ticuna people of the Amazon rain forest populate large parts of the Amazonas state of Brazil, as well as parts of Colombia and Peru.  Brazil finally recognized the Ticuna right to control over some of their historic lands in 1990.  Men make and use all Ticuna masks, are used primarily in adult initiation rituals for girls and in funerals.  Funeral masks always represent animals that the deceased would want to hunt in the next life.  Human masks are part of a full body suit made of tapa (cloth made from pounded tree bark) and are danced at an elaborate ceremony for the initiation of girls into adulthood.  This specific mask was almost certainly made for the tourist trade.
:
https://www.maskmuseum.org/wp-content/uploads/Latin-America-Brazil-Ticuna-Shaman-Mask-1a.png
1000
1000
Curator
https://www.maskmuseum.org/wp-content/uploads/sf-website-logo.svg
Curator
2017-06-11 19:14:08
2017-08-12 11:53:33
Ticuna Shaman Mask