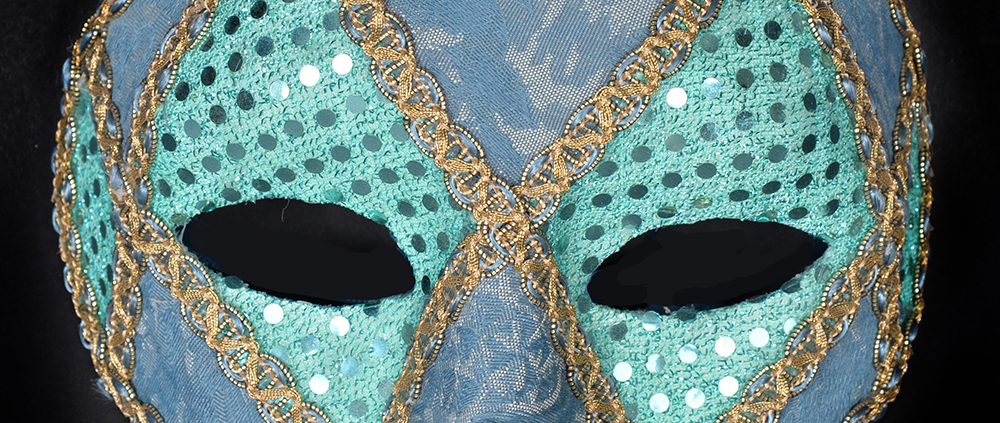 TITLE: Carnival Half-Mask
TYPE: mask
GENERAL REGION: Europe
COUNTRY: Italy
SUBREGION: Venice
ETHNICITY: Italian
DESCRIPTION: Carnival Half-Mask
MAKER: Marilisa Dal Cason, Cogollo del Cengio (1960- )
CEREMONY: Carnival; Masked Balls
AGE: 2011
MAIN MATERIAL: paper maché; cloth
OTHER MATERIALS: sequins; ribbons
The Venetian Carnival has long been famed for its elaborate period costumes and elegant masks.  Mask-makers cluster in Venice to service the event, masked balls, and a lively tourist market.  Masks such as this one, both elegant and decorative, are popular during the Venetian Carnival. Half-masks are favored by women because of their practical advantages.  They provided privacy and shielded the most exposed part of the face from the damaging sun in an era where pale skin was a mark of beauty and aristocracy.  Moreover, they offer no impediment to eating, drinking or speaking.  The popularity of such masks soon spread throughout Europe, as evidenced by the painting of the French artist Joseph-Désiré Court in the mid-nineteenth century, depicting a coquette unmasking herself.
:
https://www.maskmuseum.org/wp-content/uploads/Europe-Italy-Venice-Carnivale-Cloth-Half-Mask-1a.png
1000
1000
Curator
https://www.maskmuseum.org/wp-content/uploads/sf-website-logo.svg
Curator
2017-10-03 22:13:46
2017-10-03 23:11:14
Carnival Half-Mask