The Late Richard Thompson: Formidable U.S. Mask Maker
At the end of 2022, the U.S. mask-making community lost an exceptionally talented member to cancer. Richard Thompson owned Mr. Hide Leather of New York, well known at the New Orleans Mardi Gras market and galleries around the country.
The Museum Director was grateful for the opportunity to interview Richard's daughter, Stephanie Koithan, to discuss his life, training, career, and artistic inspiration.
Richard was born in Elmhurst, Illinois in 1957 and, after high school, enrolled in a fashion school to learn pattern making and leatherworking.  In the 1970s, he began with clothing, purses, and backpacks, but by the early 1980s he had picked up a taste for mask making.  The fantasy aspects of the subject appealed to Richard's imagination, and he drew inspiration from the Venetian Carnival, the art and stories of the Northwest Coast Native Americans, African and Mexican folklore, and Norse and Greco-Roman mythology.  He also drew from science fiction, the surrealist art traditions of H.R. Giger and Salvador Dalí, and the armor of Japanese samurai warriors.
Working from a home studio, he soon began crafting and marketing handmade leather masks at the Mardi Gras Market in New Orleans and Renaisssance Fairs around the country.  He brought his family to both, where he soon became known for his fine crafting and abundant creativity.  The reference to Mr. Hide in his business name invoked a triple pun: the leather hides he used as materials, the fact that masks hide the wearer's identity, and the famed Gothic novella of Robert Louis Stevenson, The Strange Case of Dr. Jekyll and Mr. Hyde, involving a scientist who developed a potion to change identities and release his inner demons.  "I guess it's a reference to an inherent duality in wearing a mask," explains Stephanie. "You are both the person underneath and whatever persona you're putting on."
Richard made hundreds of masks every year, most the size of a normal face, but characterized by exquisite detail, realism, and refinement.  These masks were built up from multiple layers, and his training in pattern-making expedited the process.  Often he textured the interior as well as the exterior of the mask.  Such masks were sold at festivals and event markets, and in galleries in major cities such as New Orleans and Los Angeles.
He also made a few large creations each year that incorporated over 100 pieces of leather and took 100 to 130 hours to make.  These larger masks gave Richard the opportunity to explore his creative boundaries.  As his skills matured, he created masks reflecting social or political commentary, such as a mask looking like a mosquito, but with a gasoline pump for a proboscis, which he called "Terrasite" and meant as a satire on the oil industry.  Another, entitled "The Color of God" has 7 faces that is supposed to represent all ethnicities throughout the world. Some masks included moving parts, such as this giant squid with puppetry strings attached to the tentacles. Richard sometimes submitted these masks to art festival competitions, often winning first prize.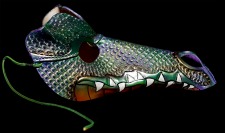 The Second Face Museum of Cultural Masks is pleased to feature three of Richard's regular-sized masks in its collection: a half-mask representing a bird, a crocodile, and a rhinoceros.
A public funeral service will be held for Richard at Mardi Gras 2023 in New Orleans.  In addition, his larger masks will be on exhibition at the Time Before Death Gallery in the French Quarter from February 15-25, and his regular masks will be on sale at the Mardi Gras Mask Market in Dutch Alley from February 17-20, 2023.
Richard and his wife at the Mardi Gras Mask Market in New Orleans.
Metamorphosis, 2008, inspired by Franz Kafka's story. This mask
has strings that allow the wearer to move the mandible.
The Color of God has multiple faces of different hues and
is meant to represent all ethnicities in a single mask.