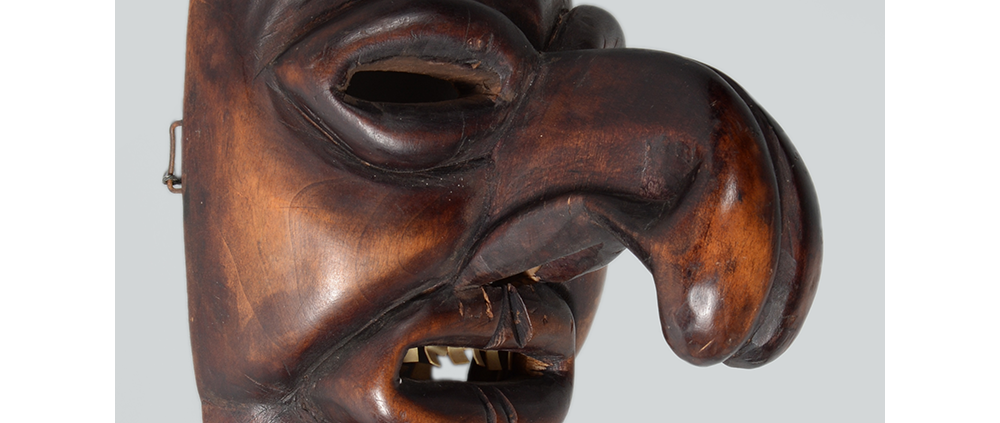 TITLE: Langnasni Carnival Mask
TYPE: face mask
GENERAL REGION: Europe
COUNTRY: Switzerland
SUBREGION: Unknown
ETHNICITY: Swiss
DESCRIPTION: Langnasni (Longnose) Carnival Mask
CATALOG ID: EUCH014
MAKER: Unknown
CEREMONY: Fasnacht (carnival)
AGE: 1950s or 1960s
MAIN MATERIAL: wood
OTHER MATERIALS: stain; hardware; rawhide
Fasnacht is what the Tyrolean Swiss call Carnival.  In many towns in Austria, southern Germany, Switzerland, and northern Italy, local folk don elaborate masks and costumes to parade through the town.  Different towns have variations on the parade, such as the Schemenlaufen of Imst, the Schellerlaufen of Nassereith, and the Muller and Matschgerer of Innsbruck, Austria.
Little is known about this mask.  It is a classic Langnasni ("Longnose") type by an unknown carver, made and worn for Carnival, most probably in the 1950s or 1960s.
Unfortunately, the best book on Swiss masking traditions is available in German only: Albert Bärtsch, Holzmasken: Fasnachts- und Maskenbrauchtum in der Schweiz, in Süddeutschland und Österreich (AT Verlag 1993).
:
https://www.maskmuseum.org/wp-content/uploads/Europe-Switzerland-Unknown-Carnival-Mask-1b.png
1000
1000
Curator
https://www.maskmuseum.org/wp-content/uploads/sf-website-logo.svg
Curator
2022-01-12 10:02:31
2023-11-12 08:24:48
Langnasni Carnival Mask