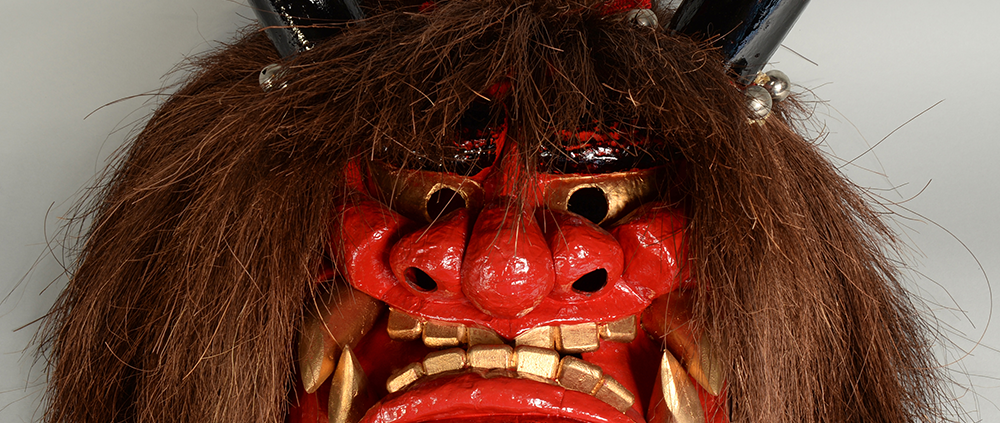 TITLE: Setsubun Oni Mask
TYPE: face mask
GENERAL REGION: Asia
COUNTRY: Japan
SUBREGION: Okayama Prefecture
ETHNICITY: Japanese
DESCRIPTION: Paper maché oni mask for Mamemaki
CATALOG ID: ASJP001
MAKER: Unknown maker in Okayama Prefecture
CEREMONY: Mamemaki (Setsubun)
AGE: 2018
MAIN MATERIAL: paper maché
OTHER MATERIALS: plant fiber; dyed cotton cloth; dyed cotton rope; steel bells; cotton wadding; stitching; nylon bands; steel hardware; paint
Setsubun is the day before spring begins in the traditional Japanese calendar, now usually held February 2, 3 or 4. It is a holiday that involves purification rituals, the foremost among which is mamemaki, or bean-scattering. To celebrate, households throw fukumame (roasted soybeans) out of their front door or at a member of the family wearing an oni (demon) mask such as this one. As they do, they shout "Oni-wa soto! Fuku-wa uchi!" ("Demons out! Good fortune in!") and slam their front door. In addition, they traditionally eat the fukumame, one for each year of their age plus an additional one for good luck. In modern times, these practices are often performed at a Shinto temple or shrine.
This mask was worn once in 2019 ritual in Okayama.
:
https://www.maskmuseum.org/wp-content/uploads/Asia-Japan-Setsubun-Oni-1a.png
1000
1000
Curator
https://www.maskmuseum.org/wp-content/uploads/sf-website-logo.svg
Curator
2023-10-30 13:56:30
2023-10-30 14:16:37
Setsubun Oni Mask