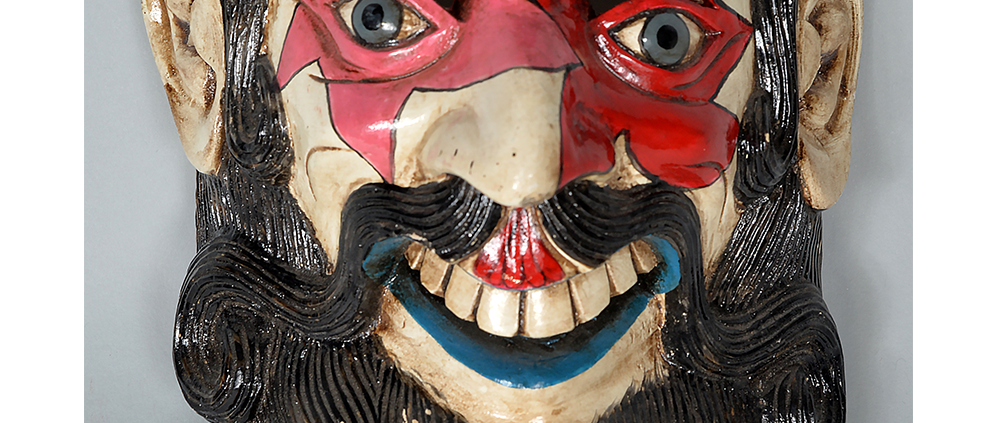 TITLE: Character Mask
TYPE: face mask
GENERAL REGION: Latin America
COUNTRY: Mexico
SUBREGION: Michoacán
ETHNICITY: Purépecha
DESCRIPTION: Laughing character mask with stars on face
CATALOG ID: LAMX060
MAKER: Unknown
CEREMONY: Pastorela
AGE: ca. 2010
MAIN MATERIAL: wood
OTHER MATERIALS: paint
The Pastorela is the ceremonial dance drama of Michoacán state in Mexico. Pastorelas, performed in February during the Shrovetide season, are primarily religious in significance. The main characters of the Dance of the Shepherds are the Devil and his minions, the Archangel Michael, shepherds, and a hermit (who paradoxically represents the ancestors of the performers).  The drama revolves around the attempts of Lucifer and his demon minions to steal the baby Jesus.  Other dramas performed on the occasion include the Dance of the Negritos (dance of the little blacks), relating to the importation of African slaves into Mexico by the Spaniards, and which includes an army of elegantly dressed "little Maries" (Maringuillas), and feos, or ugly clowns.
:
https://www.maskmuseum.org/wp-content/uploads/Latin-America-Mexico-Michoacan-Pastorela-Payaso-1a.png
1000
1000
Curator
https://www.maskmuseum.org/wp-content/uploads/sf-website-logo.svg
Curator
2017-09-05 09:01:33
2023-11-12 08:23:42
Character Mask