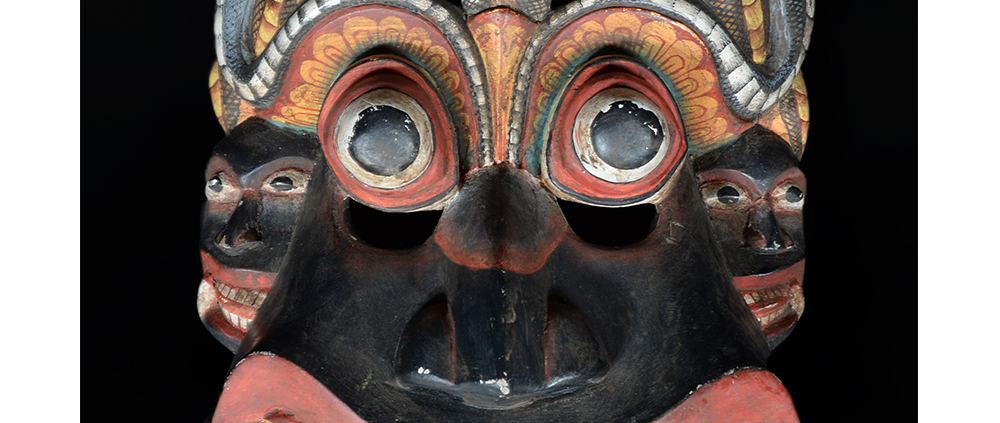 TITLE: Huniyam Yakka Mask
TYPE: face mask
GENERAL REGION: Asia
COUNTRY: Sri Lanka
ETHNICITY: Sinhalese
DESCRIPTION: Huniyam Yakka (Prince of Black Sorcery) Mask
MAKER: Unknown
CEREMONY: Kolam Dance Drama
AGE: 1950s
MAIN MATERIAL: kadura wood
OTHER MATERIALS: paint; dyed cotton cloth
The Kolam theater of Sri Lanka emerged from shamanic healing and purification rituals to become a popular form of culturally embedded entertainment. The stories behind Kolam drama merge Sinhalese folk traditions with Buddhist Jataka stories, which tell of the former lives of the Buddha.  A Kolam performance begins with ritual addresses to gods and the Buddha. What follows is a prologue showing brief stock, mostly comical, scenes from traditional Sri Lankan society.  Finally, a king and the queen in very large masks enter with their retinue, whence they watch the dance.  The performance ends with the dance, typically involving Gara demons, Nagas (snake demons) and the Garuda (a Naga-eating god-bird) who were eventually reconciled by the Buddha. The performance is intended to purify the village and to spread prosperity.
This mask probably represents Huniyam Yakka, the prince of black sorcery.
For more on the masks of Sri Lanka, see Alain Loviconi, Masks and Exorcisms of Sri Lanka (Paris: Éditions Errance, 1981).
:
https://www.maskmuseum.org/wp-content/uploads/Asia-Sri-Lanka-Yamma-Raksaya-1a.png
1000
1000
Curator
https://www.maskmuseum.org/wp-content/uploads/sf-website-logo.svg
Curator
2019-08-06 14:02:38
2019-08-20 21:21:44
Huniyam Yakka Mask