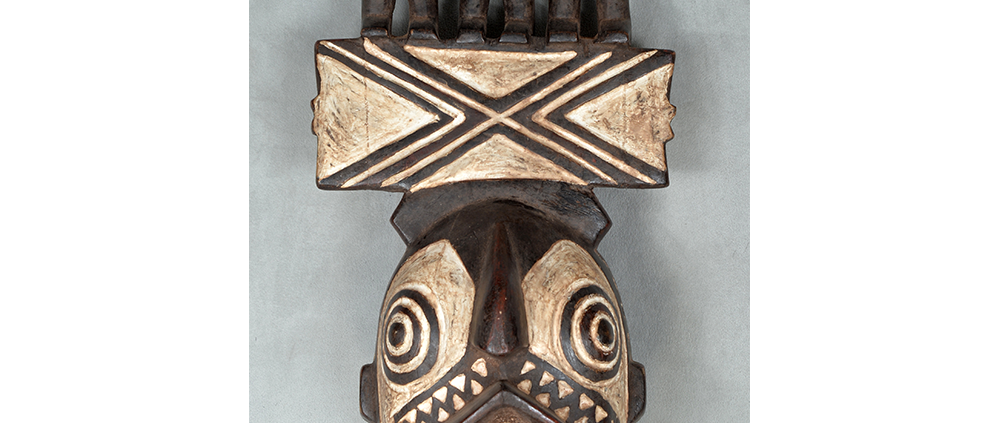 TITLE: Winiama Leprosy Mask
TYPE: face mask
GENERAL REGION: Africa
COUNTRY: Burkina Faso
ETHNICITY: Winiama
DESCRIPTION: Protection mask representing a leper
CATALOG ID: AFBF003
MAKER: Unknown
CEREMONY: Healing; Protection & Purification; Secret Society
AGE: ca. 1990s
MAIN MATERIAL: wood
OTHER MATERIALS: kaolin
The Winiama people are a small ethnic group inhabiting Burkina Faso. They share with their neighboring peoples, the Nuna, a highly geometrical masking style. The Winiama believe in a supreme creator god, who can manifest as Su, a sacred mask. Through masked rituals, Su's power can be invoked to protect the village, promote fertility, honor the dead, or inflict harm on enemies.
Some masks, such as this one, can be worn only by the highest ranking members of a secret mask society. It would have been worn with a raffia fiber collar and full body suit. The mask is intended to protect the village from the disease of leprosy. The disease was previously thought to be caused by a curse cast by a sorcerer, or by some wrongdoing of the afflicted person.
:
https://www.maskmuseum.org/wp-content/uploads/Africa-Burkina-Faso-Winiama-Protection-Mask-1a.png
1000
1000
Curator
https://www.maskmuseum.org/wp-content/uploads/sf-website-logo.svg
Curator
2017-08-01 08:58:05
2023-11-12 08:23:26
Winiama Leprosy Mask