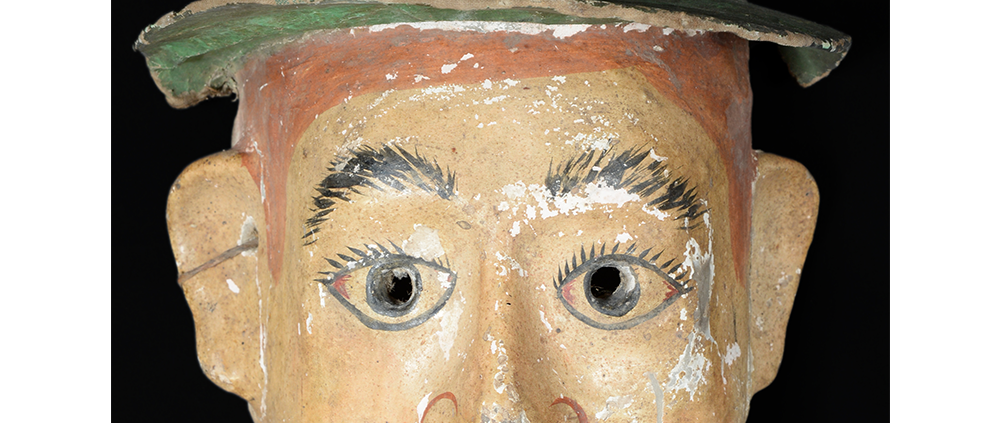 TITLE: Chhau Colonist Mask
TYPE: face mask
GENERAL REGION: Asia
COUNTRY: India
SUBREGION: Purulia, West Bengal
ETHNICITY: Bengali
DESCRIPTION: Chhau Mask Representing a Colonist
CATALOG ID: ASIN001
MAKER: Unknown
CEREMONY: Chhau Dance
AGE: ca. 1970s
MAIN MATERIAL: paper maché
OTHER MATERIALS: gesso; paint
Chhau dance is a modern version of a classical Indian dance with tribal origins, originating in the Indian states of Jharkhand, Odisha, and West Bengal. The dance is usually structured around Hindu folk stories exalting the gods Shiva, Devi or Vishnu, and uses both elegant and martial techniques. The Purulia Chhau of West Bengal and the Seraikela Chhau of Jharkhand most commonly use masks to identify the character portrayed.
This specific mask portrays a British colonist. It is not one of the original Chhau characters, and may represent a demonic or clown character for humorous effect.  It most probably originates in Purulia and is small enough that it may have been intended for a child.
:
https://www.maskmuseum.org/wp-content/uploads/Asia-India-West-Bengal-Chhau-Mask-5a.png
1000
1000
Curator
https://www.maskmuseum.org/wp-content/uploads/sf-website-logo.svg
Curator
2019-03-09 17:46:20
2023-11-12 08:24:28
Chhau Colonist Mask