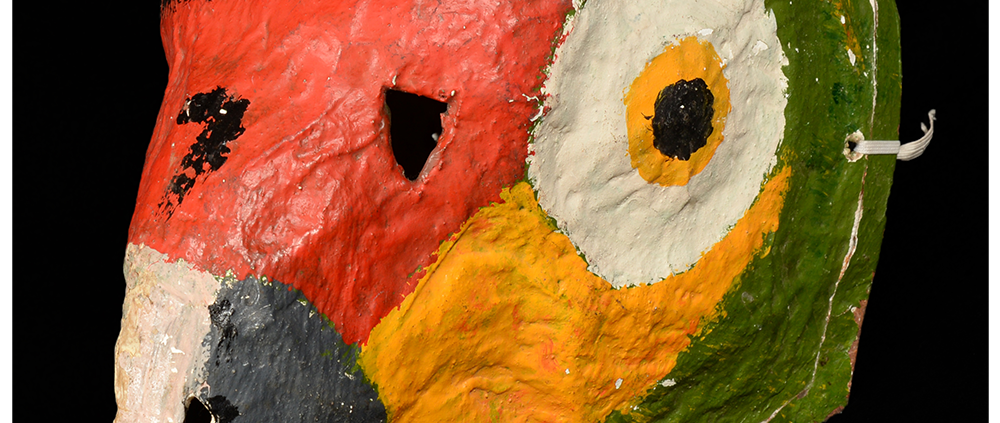 TITLE: Parrot Mask
TYPE: face mask
GENERAL REGION: Latin America
COUNTRY: Guatemala
SUBREGION: Sacatepéquez
ETHNICITY: Mayan (Kaqchikel)
DESCRIPTION: Loro (Parrot) Mask
MAKER: María Camíla Sinay López de Pérez (San Antonio Aguas Calientes, 1955- )
CEREMONY: Baile de los Animalitos
AGE: 2005
MAIN MATERIAL: paper maché
OTHER MATERIALS: metal strips; adhesive; paint
The Baile de los Animalitos (Dance of the Little Animals), also called the Baile de los Animales, is an annual ceremony in several cities of central and southern Guatemala, usually during a holiday in honor of the town's patron saint. The dance involves an angel, a hunter, and many different kinds of animals (not traditionally including a parrot, but this is a modern innovation).  The dance probably predates the Spanish conquest, and involves many speeches by the animals relating to their characteristics, their role in the ecosystem, and (since colonization) their anomalous praise of the Virgin Mary. The hunter no longer hunts the animals in the modern rendition. After the speeches, they all dance to a marimba band.
For more on Guatemalan masks, see Jim Pieper, Guatemala's Masks and Drama (University of New Mexico Press, 2006).
:
https://www.maskmuseum.org/wp-content/uploads/Latin-America-Guatemala-Loro-1c.png
1000
1000
Curator
https://www.maskmuseum.org/wp-content/uploads/sf-website-logo.svg
Curator
2023-08-07 18:57:38
2023-08-08 11:20:39
Parrot Mask