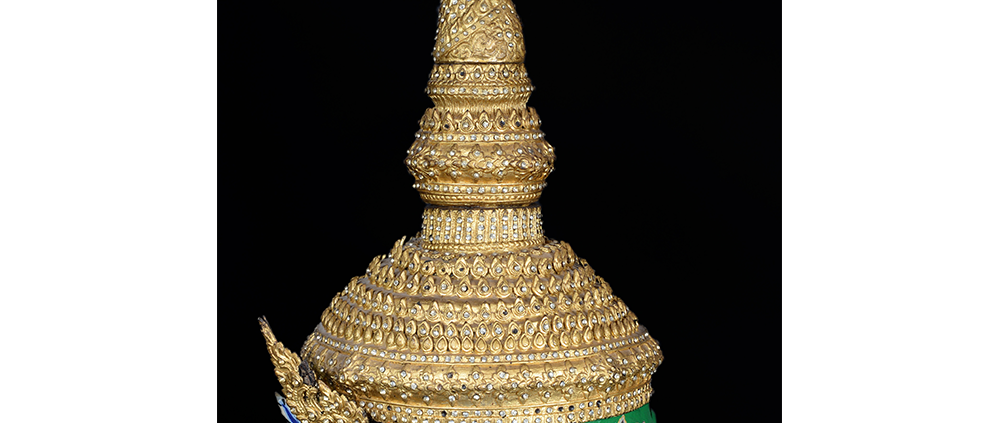 TITLE: Mangkornkanth Khon Mask
TYPE: helmet mask
GENERAL REGION: Asia
COUNTRY: Thailand
SUBREGION: Bangkok
ETHNICITY: Thai
DESCRIPTION: Mangkornkanth Demon Khon
CATALOG ID: ASTH003
MAKER: Unknown
CEREMONY: Ramakien Dance Drama
AGE: ca. 1970s
MAIN MATERIAL: paper maché
OTHER MATERIALS: plaster; gilding; rhinestones; paint; wooden fangs
The Ramakien is the Thai adaptation of the traditional Hindu epic from India, the Ramayana.  Most male characters in the drama wear masks fashioned from paper maché and elaborately gilded, decorated, and painted.
This mask represents the minor demon king Mangkornkanth, the second king of Romkan and a minion of the demon king Totsakan.
For more on Thai khon masks, see Natthapatra Chandavij & Promporn Pramualratana, Thai Puppets and Khon Masks (Bangkok: River Books, 1998).
:
https://www.maskmuseum.org/wp-content/uploads/Asia-Thailand-Mangkornkanth-Khon-Mask-1c.png
1000
1000
Curator
https://www.maskmuseum.org/wp-content/uploads/sf-website-logo.svg
Curator
2020-04-22 13:14:21
2023-11-12 08:24:41
Mangkornkanth Khon Mask