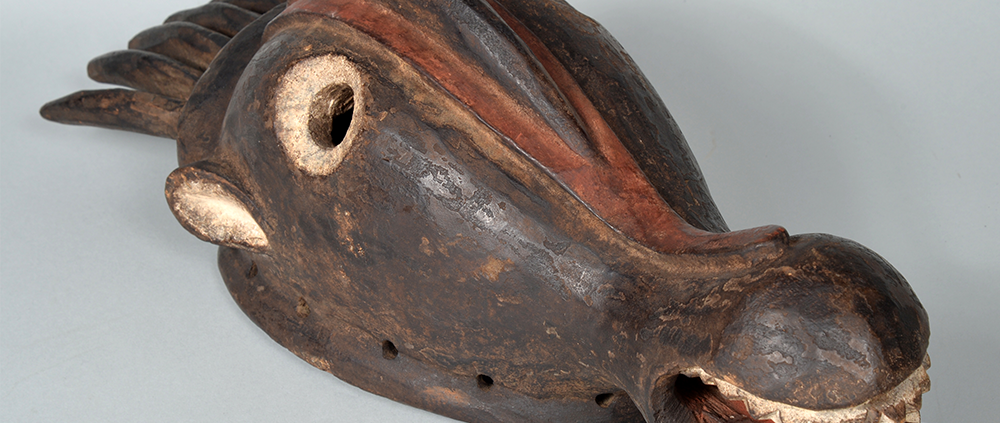 TITLE: Baka Luma Mask
TYPE: face mask
GENERAL REGION: Africa
COUNTRY: Cameroon
ETHNICITY: Baka
DESCRIPTION: Luma mask of an antelope spirit
CATALOG ID: AFCM008
MAKER: Unknown
CEREMONY: Celebration; Hunting
AGE: early 1970s
MAIN MATERIAL: wood
OTHER MATERIALS: pigment; kaolin clay
The Baka people of Cameroon, Central African Republic, Congo, and Gabon are also known as Bayaka people. They are semi-nomadic hunter-gatherers, formerly known as "pygmies."  They maintain an animistic religion based on an omnipresent forest spirit named Jengi and a supreme god named Komba.
After a successful hunt, the Baka chant songs of thanksgiving to Jengi to the beat of a drum in a ritual called Luma.  Some masked dancers in raffia fiber suits represent forest animals, such as this one. One will appear fully covered in a woolly suit of red raffia, with nothing else showing, to represent Jengi.  The Baka do not make very extensive use of wooden masks, and so they are rarely seen.
:
https://www.maskmuseum.org/wp-content/uploads/Africa-Cameroon-Baka-Luma-Mask-1a.png
1000
1000
Curator
https://www.maskmuseum.org/wp-content/uploads/sf-website-logo.svg
Curator
2017-09-22 14:27:40
2023-11-12 08:23:50
Baka Luma Mask