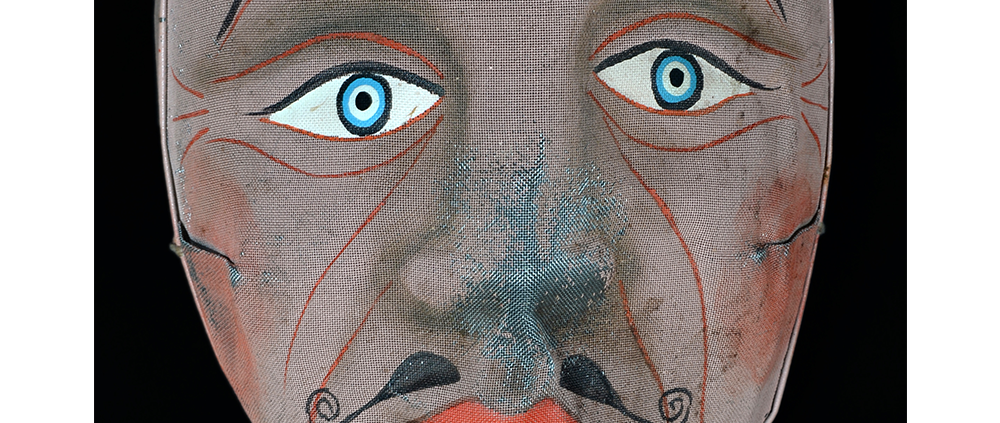 TITLE: K'achampa Mask
TYPE: face mask
GENERAL REGION: Latin America
COUNTRY: Peru
SUBREGION: Cusco
ETHNICITY: Quechua
DESCRIPTION: K'achampa Mask
CATALOG ID: LAPE002
MAKER: Dionicio Huamán Ayma (Sicuani, 1950- )
CEREMONY: K'achampa Dance
AGE: 2014
MAIN MATERIAL: wire mesh
OTHER MATERIALS: paint; steel strips
The k'achampa dance is performed throughout the central mountains of Peru to the accompaniment of martial music. The characters include a leader (caporal), soldiers, and children. The dance is performed for different purposes in different parts of Peru. In Cusco, it is performed during Corpus Christi.  In Paucartambo, it is usually part of the Fiesta de la Virgen de Carmen in mid-July. In Ollantaytambo, it is performed at the Feast of the Pentecost on January 6. In all cases, the mask is worn with a costume consisting of an elaborately decorated flat-topped hat or ch'ullu (traditional Andean wool hat with earflaps), a vest with mirrors and bells, a white shirt, black tie, white gloves, black shorts, and vest and dress coat. The masqueraders may also carry a slingshot. The dance is thought to be Incan in origin and to relate to war rituals.
This mask was made and used in Pisaq for four years.
Click above to watch a short documentary on Corpus Christi in Cusco, Peru.
:
https://www.maskmuseum.org/wp-content/uploads/Latin-America-Peru-Kachampa-2a.png
1000
1000
Curator
https://www.maskmuseum.org/wp-content/uploads/sf-website-logo.svg
Curator
2019-08-11 11:36:24
2023-11-12 08:24:32
K'achampa Mask