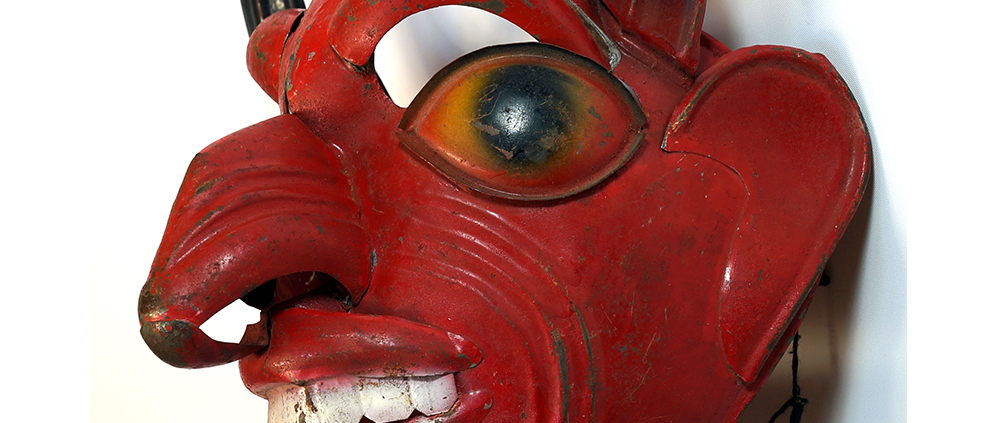 TITLE: Diablo Mask
TYPE: face mask
GENERAL REGION: Latin America
COUNTRY: Peru
SUBREGION: Puno
ETHNICITY: Quechua; Aymara
DESCRIPTION: Diablo (Devil) Mask
CATALOG ID: LAPE026
MAKER: Unknown maker in Puno
CEREMONY: Carnival (Diablada)
AGE: 1970s
MAIN MATERIAL: recycled metal gas can
OTHER MATERIALS: oil-based paint
The Diablada of Peru is a Carnival parade of dancing devils similar to ones held in Bolivia and northern Chile.  The dance represents the forces of evil struggling with the forces of good, represented by the Archangel Michael.  There is probably some connection between the diablos (devils) and the Tío Supay, the traditional god/demon of the underworld in pre-Christian Altiplano culture.
This specific mask was made in the 1970s in Puno, or possibly Cuzco, and used in Puno for many years.
:
https://www.maskmuseum.org/wp-content/uploads/Latin-America-Peru-Diablada-Diablo-1b.png
1000
1000
Curator
https://www.maskmuseum.org/wp-content/uploads/sf-website-logo.svg
Curator
2017-06-04 11:56:25
2023-11-12 08:23:10
Diablo Mask