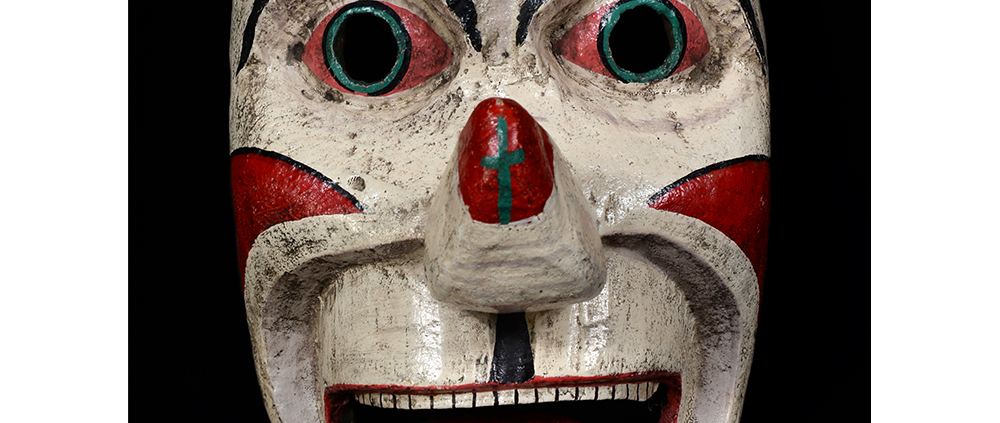 TITLE: Payaso Abanderado Mask
TYPE: face mask
GENERAL REGION: Latin America
COUNTRY: Ecuador
SUBREGION: Cotopaxi
ETHNICITY: Mestizo
DESCRIPTION: Payaso Abanderado (flag-bearing clown) mask
CATALOG ID: LAEC007
MAKER: Unknown
CEREMONY: Fiesta de la Mama Negra
AGE: ca. 1960s-1970s
MAIN MATERIAL: hardwood
OTHER MATERIALS: plaster; paint
The Fiesta de la Mama Negra (Festival of the Black Mama) is a celebration held in September and again in early November in Latacunga, Ecuador. The event originates in pre-colonial indigenous practices and was adapted to honor the Virgin of Mercy (Virgen de la Merced) after Catholic conversion, in thanks for her supposed  intervention to protect the population from eruptions from the nearby Cotopaxi volcano.  The festival has become one of the most important in Latacunga, and includes a parade (comparsa) featuring the Mama Negra prominently as an African version of Mary, mother of Jesus.
Other important masks include animals, the Rey Moro (King Moor, showing the influence of the Conquistadors), angels, clowns (payasos abanderados), and miscellaneous other characters. This festival opens with the huacos, representing precolonial Aymara shamans who parade to cure the diseases of the crowd. This mask is a payaso abanderado, marked with crucifixes (as is traditional) and carrying the flag of Ecuador.
:
https://www.maskmuseum.org/wp-content/uploads/Latin-America-Ecuador-Payaso-Abanderado-1a.png
1000
1000
Curator
https://www.maskmuseum.org/wp-content/uploads/sf-website-logo.svg
Curator
2020-07-24 11:01:19
2023-11-12 08:24:44
Payaso Abanderado Mask