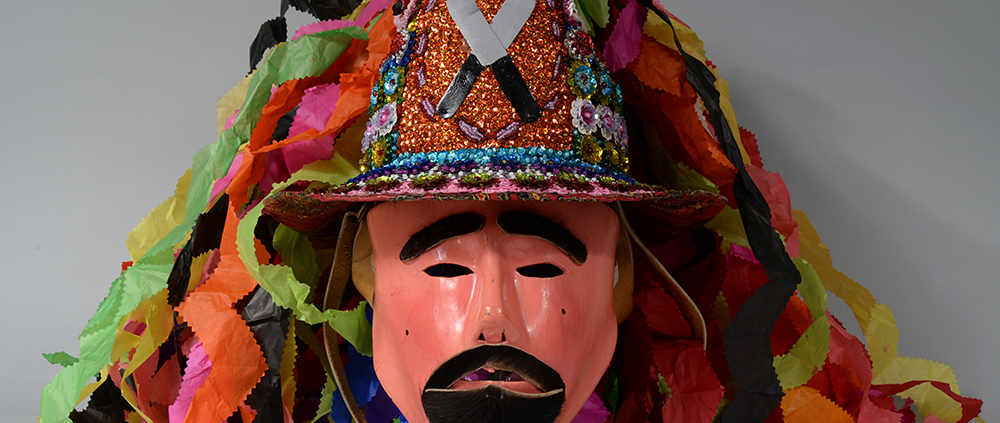 TITLE: Cuchillo Mask and Hat
TYPE: face mask; accessory
GENERAL REGION: Latin America
COUNTRY: Mexico
SUBREGION: Tlaxcala
ETHNICITY: Nahua
DESCRIPTION: Cuchillo (Knife) mask with hat
CATALOG ID: LAMX142
MAKER: Isaac Salóm (Huejotzingo, Puebla, 1949-2021)
CEREMONY: Carnival
AGE (Mask): 1971
AGE (Hat): 2022
MAIN MATERIAL: leather (calfskin)
OTHER MATERIALS: paint; goat leather and fur; cotton thread; elastic straps
The state of Tlaxcala, Mexico, has a variety of traditions and masks used during Carnival. In the town of Tloluca, the main dance is the Danza de los Cuchillos (Dance of the Knives). The cuchillo mask is made of calfskin and worn by dancers who strap knives to their calves and dance by clicking them together. Around them dance several characters dressed in cowboy (charro) costumes. These include one wearing a black mask, who represents a demon, and several wearing masks composed of goat fur. In some dances, a witch appears who represents the cruel foreman of the plantation whom the dancers (the cuchillos and charros) ultimately are said to have hung. They dance a variety of dances, including the Knives Dance and a circular dance in which the dancers take turns carrying each other.
This mask was danced by Ruperto Olivares Hernández (1969- , Toluca de Guadalupe, Tlaxcala) of the Pandilla Cuchillos y Charros for fifty-one years (1971-2022), although it was made in the town of Huejotzingo in the neighboring state of Puebla, where similar leather masks are used to celebrate the Mexican victory over the French on May 5, 1862. The elaborate hat features two crossed knives decorating the front, to designate the Carnival dancer as a Cuchillo.
A brief documentary about Carnival in the state of Tlaxcala, Mexico.
:
https://www.maskmuseum.org/wp-content/uploads/Latin-America-Mexico-Tlaxcala-Cuchillo-Mask-and-Hat-1a.png
1000
1000
Curator
https://www.maskmuseum.org/wp-content/uploads/sf-website-logo.svg
Curator
2022-03-09 08:54:39
2023-11-12 08:24:51
Cuchillo Mask and Hat