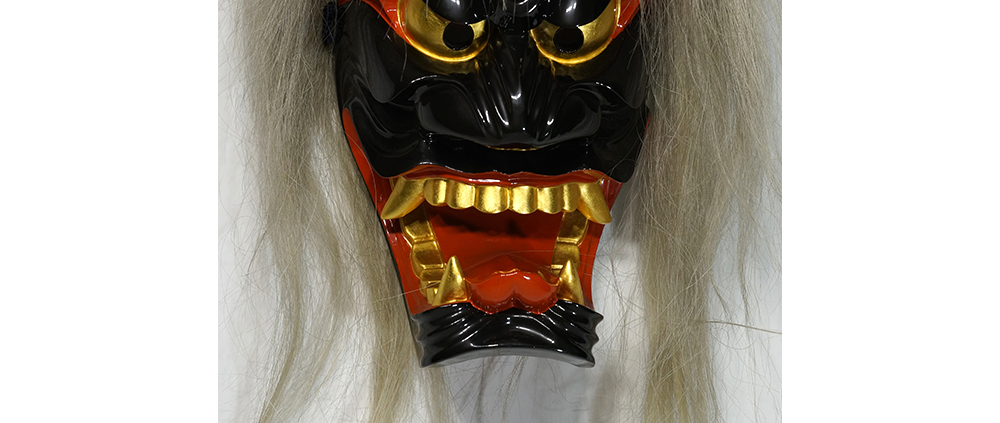 TITLE: Menburyu Hannya Mask
GENERAL REGION: Asia
COUNTRY: Japan
SUBREGION: Saga Prefecture
ETHNICITY: Japanese
DESCRIPTION: Hannya mask
CATALOG ID: ASJP026
MAKER: Unknown
CEREMONY: Menburyu (Furyu) Dance
AGE: early 2000s
MAIN MATERIAL: wood
OTHER MATERIALS: paint; lacquer; brass; gold dust; horse hair
Menburyu is a form of Furyu, a is a sacred masked dance native to Saga Prefecture in the autumn to seek an abundant harvest. In modern Furyu, dancers are accompanied by brass gongs and taiko drums. The Menburyu form of Furyu is practiced primarily in the southwest region of the prefecture and features a Hannya, or female serpent who has become a demon through spite and jealousy. The origin of the dance is believed to be a military battle in which defending forces attacked an invader at night wearing demon masks, wigs, and loud music to frighten the enemy. Other forms of Menburyu feature the tentsuki mask, representing a half-with a drawing of a dragon. When a Furyu dancer wears a mask, he is considered to incarnate the Buddha.
:
https://www.maskmuseum.org/wp-content/uploads/Asia-Japan-Saga-Menburyu-Furyu-1a.png
1000
1000
Curator
https://www.maskmuseum.org/wp-content/uploads/sf-website-logo.svg
Curator
2017-08-08 07:17:50
2023-11-12 08:23:27
Menburyu Hannya Mask