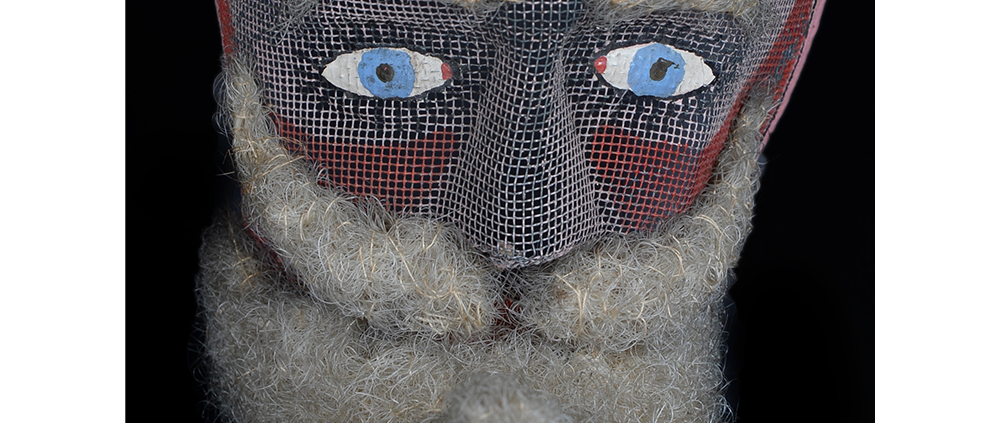 TITLE: Chinelo Mask
TYPE: face mask
GENERAL REGION: Latin America
COUNTRY: Mexico
SUBREGION: Morelos
ETHNICITY: Nahua
DESCRIPTION: Chinelo Mask
CATALOG ID: LAMX073
MAKER: Unknown
CEREMONY: Carnival
AGE: 1970s
MAIN MATERIAL: metal wire mesh
OTHER MATERIALS: metal strips; dyed ixtle fiber; oil-based paint
The Carnival of Morelos typically features the popular figure of fun, the chinelo, a Spanish version of the Nahuatl word zineloquie, or "disguised." As occurred in many parts of Mexico, dances developed during Carnival as a means of expressing indigenous resentment of the European colonists.  In Morelos, the primary object of frustration was the sugar cane plantation, in which native labor was exploited while Spanish colonists enriched themselves. The chinelos represent a grotesque caricature of the invaders, with their fancy clothing, fair skin, elaborate facial hair, and arrogant mannerisms. Chinelo costumes are especially elaborate, often made to resemble velvet or satin, with bright and intricate designs in beads, sequins, fur, and feathers covering the robe and hat.  The dance of the chinelos, called the brincón ("hop"), is a series of repetitive, energetic hops to the fast-paced blare of drums, and of brass and woodwind instruments.
:
https://www.maskmuseum.org/wp-content/uploads/Latin-America-Mexico-Morelos-Chinelo-1a.png
1000
1000
Curator
https://www.maskmuseum.org/wp-content/uploads/sf-website-logo.svg
Curator
2021-08-23 16:37:13
2023-11-12 08:24:47
Chinelo Mask