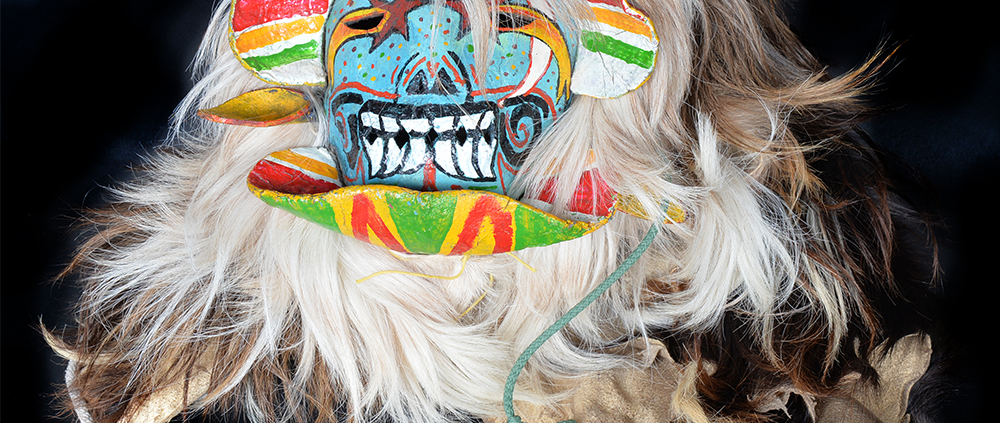 TITLE: Archareo Mask
TYPE: face mask
GENERAL REGION: Latin America
COUNTRY: Mexico
SUBREGION: Mexico State
ETHNICITY: Mestizo
DESCRIPTION: Archareo (Archer) Mask
CATALOG ID: LAMX049
MAKER: Daniel Nuñez (San Martín de las Pirámides, birth date unknown)
CEREMONY: Fiesta de San Martín
AGE: 1980s
MAIN MATERIAL: leather
OTHER MATERIALS: felt; goat fur; paint; stitching
The Danza de los Archareos (Dance of the Archers), also called the Danza de los Alchilelos, Archileos, Alchareos, and other variants, is performed on the Feast Day of San Martín (April 13th) every year in the village of San Martín de las Pirámides. Similar dances are performed elsewhere in Mexico State and Guerrero.  It is a form of Christians and Moors dance, with the masked archers representing the evil Moors.  The Moors dance to flute and drum music in a group wearing brightly colored outfits.  The Christians similarly dance in a group, mostly unmasked (except for the leader, who has a mock horse and represents St. James the Apostle) and wearing elaborate capes and feathered hats. Eventually, the groups engage in mock battles with swords, which the Christians inevitably win.
:
https://www.maskmuseum.org/wp-content/uploads/Latin-America-Mexico-State-Archaero-1a.png
1000
1000
Curator
https://www.maskmuseum.org/wp-content/uploads/sf-website-logo.svg
Curator
2017-12-02 11:22:22
2023-11-12 08:24:13
Archaero Mask