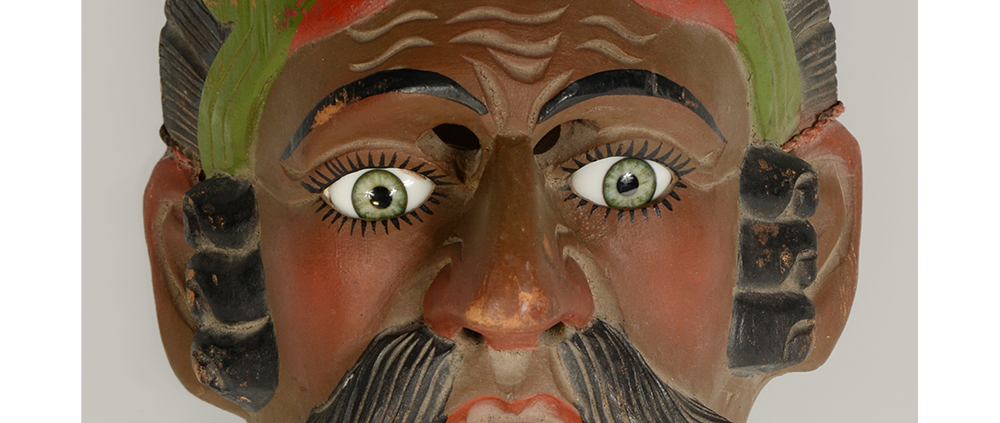 TITLE: Conquista Tecu Uman
TYPE: face mask
GENERAL REGION: Latin America
COUNTRY: Guatemala
SUBREGION: El Quiché
ETHNICITY: Mayan (K'iché)
DESCRIPTION: Tecu Uman Mask
CATALOG #: LAGT011
MAKER: Unknown maker in Chichicastenango with initials J.C.
CEREMONY: Danza de la Conquista
AGE: ca. 1970s
MAIN MATERIAL: wood
OTHER MATERIALS: paint; German glass doll eyes; wood putty
The Danza de la Conquista (Dance of the Conquest), also sometimes called the Baile de Cortès (Dance of Hernán Cortez), is a ceremony performed in many parts of Guatemala, as well as Mexico and other parts of Central and South America. In Guatemala, the dance is supposed to tell the story of the conquest of the Mayan Empires, led by Tecu Uman, by the Spanish conquistadors, led by Pedro de Alvarado or Hernán Cortez. The dance involves a complex set of speeches and songs and, in many places, takes several hours to complete, often in two or three separate acts. In San Cristóbal Totonicapán, the Spaniards are led by Alvarado and come with a disciplined army. They are aided by two female characters, one of whom represents Malinche (called Doña Marina by the Spaniards), an Aztec princess who served as Cortez's translator. The Mayan war council is advised by a shaman known as the ajitz, who helps but whose prophecies of Spanish conquest are ignored. In addition, an Aztec renegade assists the Mayans. After many speeches, discussions, songs, and melee battles, the Mayans are ultimately conquered and converted to Catholicism.
For more on Guatemalan masks, see Jim Pieper, Guatemala's Masks and Drama (University of New Mexico Press, 2006).
:
https://www.maskmuseum.org/wp-content/uploads/Latin-America-Guatemala-Tecu-Uman-1a.png
1000
1000
Curator
https://www.maskmuseum.org/wp-content/uploads/sf-website-logo.svg
Curator
2023-10-30 14:36:58
2023-10-30 15:06:29
Conquista Tecu Uman