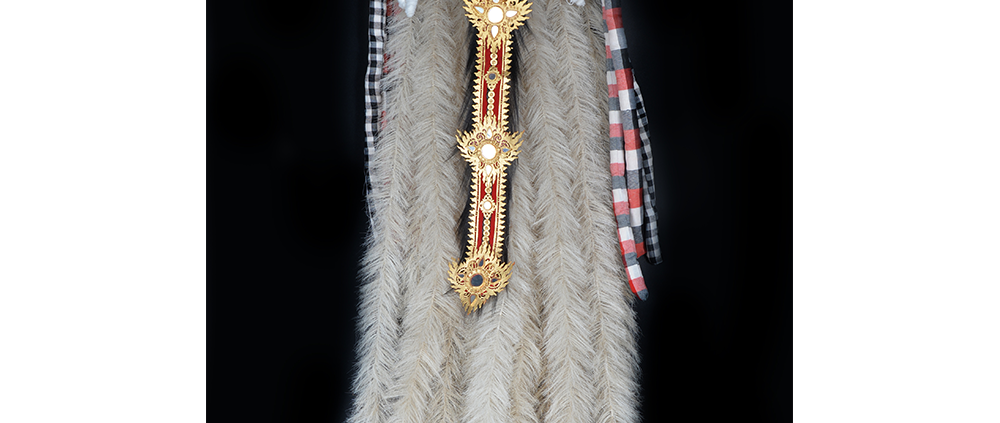 TITLE: Rangda (Calonarang)
TYPE: face mask
GENERAL REGION: Asia
COUNTRY: Indonesia
SUBREGION: Bali
ETHNICITY: Balinese
DESCRIPTION: Rangda Ing Girah (Calonarang) Mask
MAKER: Ida Wayan Tangguh (Singapadu, 1935-2016)
CEREMONY: Barong Dance; Calonarang
AGE: 2012
MAIN MATERIAL: pule wood
OTHER MATERIALS: gold-plated silver; glass; buffalo leather; paint; gold paint; horse hair
The Rangda Ing Girah ("Widow of Girah Village") is a creature of ambiguous significance in Balinese religious traditions. In Bali, she is typically referred to as Calonarang, which is also the name of her performance. Technically, she is a child-eating demon and queen of the evil witches (leyak). In the Calonarang performance, she seeks vengeance when the King Erlangga refuses to wed her beautiful daughter, Ratna Manggali. She leads her army of apprentices against the forces of good, represented by the protective Barong and his allies. Her many witch-apprentices include Rarung, Lenda, Lendi, Gandi, Weksirsa, Jaran Guyang, and Mahesa Wedan.
She has many affinities to the destructive Hindu god Kali, worshiped in parts of India, but she also seems to be associated with the Javanese mythical witch, also called Calonarang. Nonetheless, the Rangda mask is a sacred object of worship and usually kept in a temple, with protective associations. Rangda masks are taken out to perform dances and ceremonies on major holidays, most notably the Kunti Sraya, or Barong Dance.
This specific Rangda was the last made by the master craftsman, I. Wayan Tangguh of Singapadu, a few years before he died.
For more on Balinese masks, see Judy Slattum, Masks of Bali: Spirits of an Ancient Drama (San Francisco: Chronicle Books, 1992).
Video of a Barong Ceremony in Bali, Indonesia, 2018.
:
https://www.maskmuseum.org/wp-content/uploads/Asia-Indonesia-Bali-Rangda-1a.png
1000
1000
Curator
https://www.maskmuseum.org/wp-content/uploads/sf-website-logo.svg
Curator
2017-12-08 08:28:33
2023-08-04 17:56:34
Rangda (Calonarang)