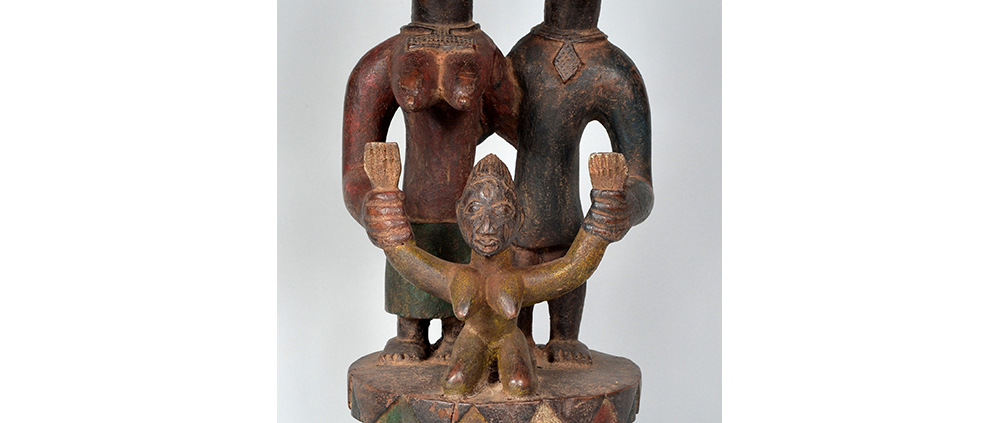 TITLE: Yoruba Gelede Mask
TYPE: crest mask
GENERAL REGION: Africa
COUNTRY: Nigeria
ETHNICITY: Yoruba
DESCRIPTION: Gelede Mask with Family Sculptures
MAKER: Unknown
CEREMONY: Gelede Society
AGE: early 2000s
MAIN MATERIAL: wood
OTHER MATERIALS: paint
The highly populous Yoruba people inhabit much of Nigeria and parts of Benin. The Gelede Society originates in cultural myths about Yemoja, the mother of all living things, who could not conceive children until she learned a dance with a wooden image on her head. The Gelede is named after Yemoja's chubby daughter, and the dance therefore has a close connection with fertility rites. Nonetheless, the Gelede ceremony performs diverse functions in Yoruba society, including to pray for rain, purify the village of disease, to enlist spiritual help in wartime, and to honor the dead.
For more on the Gelede ceremony, see Babatunde Lawal's incomparable monograph, The Gelede Spectacle (University of Washington Press, 1996).
:
https://www.maskmuseum.org/wp-content/uploads/Africa-Nigeria-Yoruba-Gelede-Mask-2a.png
1000
1000
Curator
https://www.maskmuseum.org/wp-content/uploads/sf-website-logo.svg
Curator
2017-08-22 20:17:55
2023-02-09 10:20:47
Yoruba Gelede Mask