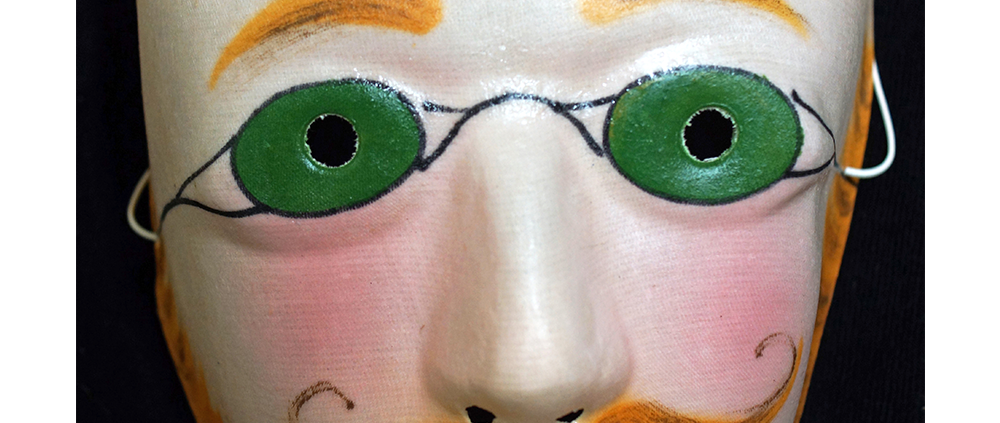 TITLE: Gille de Binche
TYPE: face mask
GENERAL REGION: Europe
COUNTRY: Belgium
SUBREGION: Binche
ETHNICITY: Walloon
DESCRIPTION: Gille de Binche mask
CATALOG ID: EUBE001
MAKER: Jean-Luc Pourbaix (Binche, 1947-2023) & Christophe Pourbaix (Binche, 1966-2018)
CEREMONY: Carnival
AGE: 2013
MAIN MATERIAL: cloth
OTHER MATERIALS: wax; paint; elastic strap
In Binche, Belgium, an unusual Carnival tradition emerged in approximately the 14th century, featuring (among others) masqueraders known as Gille. Gille is an elaborately dressed bourgeois with a hunched back. Most modern Gilles wear a mask, held to the head with elastic straps and a white cloth, and sporting a distinctive blond "Napoleon III" mustache with green glasses, suggesting a scholar.  The mask is thought to date to the 1860s, and it was formerly made in Germany. After the Second World War, the mask was manufactured in France using a hat press over a sculpted mold, until Jean-Luc Pourbaix began making them locally in Binche in 1976.
The costume is a suit of grey cloth, elaborately embroidered with insignias and designs in black, red, and yellow, and with a heavily padded back. The masqueraders also wear a white cloth cowl with a lace or tasseled fringe, a belt of small bells, and wooden clogs with lace spats. Crowds of Gilles parade in large groups to drum beats, carrying sticks to drive away evil spirits. Later, they appear in hats with giant ostrich plumes, carrying baskets of oranges for throwing to (or at) the parade audience as a token of good luck.
In the past, similar masks and costumes were worn by Carnival celebrants in other towns of Wallonia, with slight differences in appearance. In Nivelles, for example, the mask worn by the Société de l'Argayon had a more elaborate beard and no glasses, but was otherwise similar. It is no longer widely worn outside of Binche.
Link to a video by Guy de Angelis documenting the entire process of making the Gille mask (in French).
:
https://www.maskmuseum.org/wp-content/uploads/Europe-Belgium-Gilles-de-Binche-1a.png
1000
1000
Curator
https://www.maskmuseum.org/wp-content/uploads/sf-website-logo.svg
Curator
2017-05-29 22:28:51
2023-11-12 08:23:08
Gille de Binche