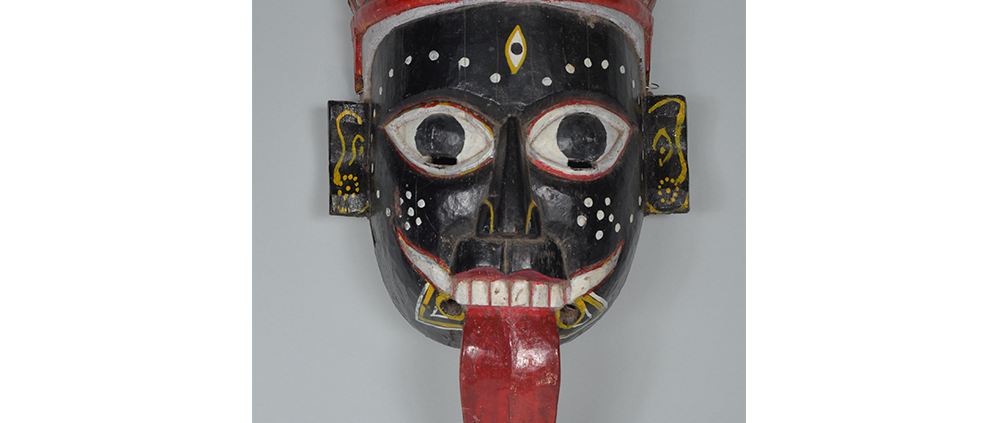 TITLE: Kali Mask
TYPE: face mask
GENERAL REGION: Asia
COUNTRY: Nepal
ETHNICITY: Tharu
DESCRIPTION: Kali (Durga) Mask
CATALOG ID: ASNP008
MAKER: Unknown
CEREMONY: Mahabharata Dance Drama
AGE: ca. 1960s
MAIN MATERIAL: hardwood
OTHER MATERIALS: paint
The Mahabharata is an ancient Hindu religious text that tells epic stories of heroes, gods, and demons from India's storied past. The Mahabharata has inspired dance dramas through India and other countries influenced by Hinduism, including southern Nepal, where the Tharu and Rajbansi peoples live. These ethnic groups are closely related to their Indian neighbors.
This mask represents Kali, a god who leapt from Durga's brow in order to kill certain demons, but became so battle raged that she began killing everything in her path until Shiva stopped her by throwing himself under her feet. Kali is considered another side of Durga, but destructive and evil, and so she appears black and ferocious, with her tongue hanging out in blood lust.
:
https://www.maskmuseum.org/wp-content/uploads/Asia-Bangladesh-Kali-Durga-1a.png
1000
1000
Curator
https://www.maskmuseum.org/wp-content/uploads/sf-website-logo.svg
Curator
2017-08-20 10:28:24
2023-11-12 08:23:34
Kali Mask