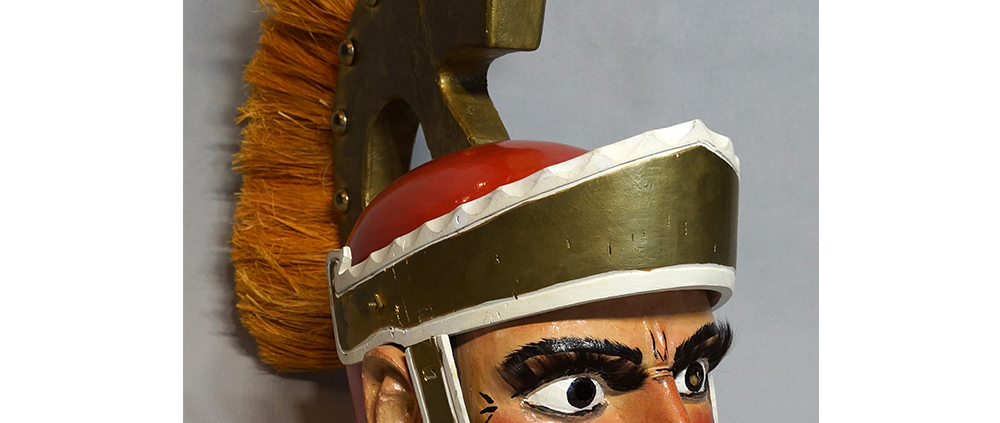 TITLE: Moryonan (Moriones) Mask
TYPE: helmet mask
GENERAL REGION: Asia
COUNTRY: Philippines
SUBREGION: Marinduque
ETHNICITY: Filipino (Tagalog)
DESCRIPTION: Moryonan Mask
CATALOG ID: ASPH001
MAKER: Unknown maker in Marinduque
CEREMONY: Moryonan Festival
AGE: 2005
MAIN MATERIAL: palm wood
OTHER MATERIALS: oil paint; palm fibers; metal hinges & hardware; animal hair; rubber strips
Every year during Holy Week, Catholic inhabitants of the island of Marinduque stage a passion play in which some dress as Roman soldiers and Syrian mercenaries who persecute and ultimately crucify a man playing the role of Jesus to expiate the town's sins. The soldiers, or Moryonan (usually called Moriones in the media) wear palm wood and fiber helmet masks in imitation of the Roman legionary's galea.
This specific mask was made in 2005 and used in the Moryonan Festival in Marinduque in 2006.
:
https://www.maskmuseum.org/wp-content/uploads/Asia-Philippines-Moriones-1a.png
1000
1000
Curator
https://www.maskmuseum.org/wp-content/uploads/sf-website-logo.svg
Curator
2017-06-03 19:58:53
2023-11-12 08:23:10
Moryonan (Moriones) Mask