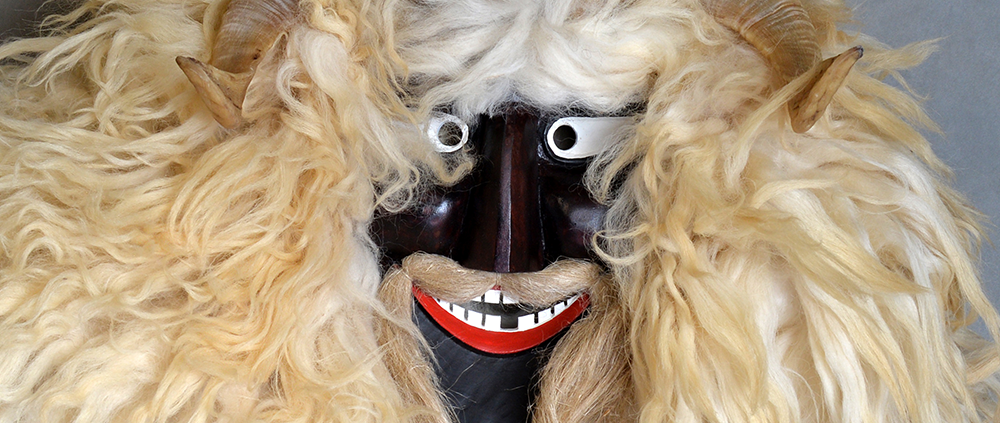 TITLE: Busójárás Mask
TYPE: helmet mask
GENERAL REGION: Europe
COUNTRY: Hungary
SUBREGION: Mohács
ETHNICITY: Šokci
DESCRIPTION: Busó
MAKER: György Prókai, Mohács
CEREMONY: Busójárás (Farsang)
AGE: 2016
MAIN MATERIAL: wood
OTHER MATERIALS: ram horns; sheep's leather and wool; goat hair; paint
Busójárás is the Hungarian festival held annually in Mohács to celebrate the end of winter. Although the event has a pre-Christian origin as a ritual to frighten away the winter, it has been adapted to coincide with Christian ideology and timed to end with Carnival (Farsang). Masqueraders parade in hooded devil masks of the kind shown here, wearing goat-skin suits and carrying staves or playing traditional folk music.
:
https://www.maskmuseum.org/wp-content/uploads/Europe-Hungary-Buso-Mask-3a.png
1000
1000
Curator
https://www.maskmuseum.org/wp-content/uploads/sf-website-logo.svg
Curator
2017-05-30 22:12:12
2018-06-25 20:56:55
Busójárás Mask