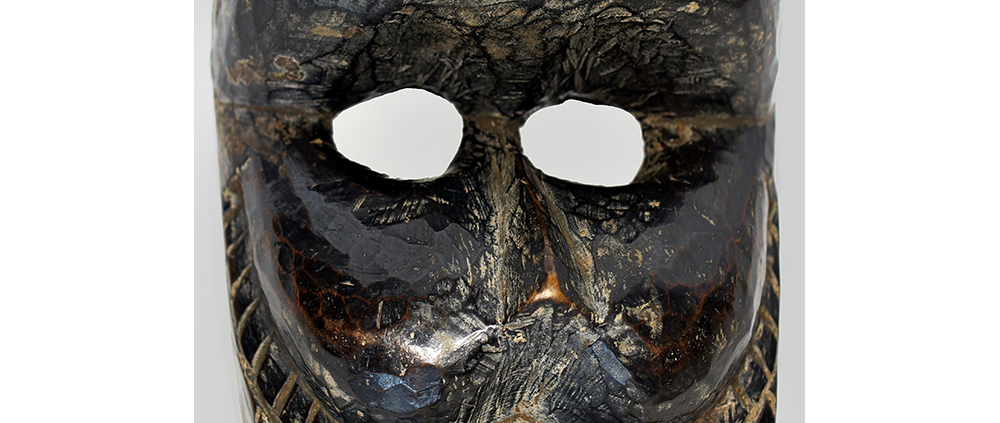 TITLE: Citipati
TYPE: face mask
GENERAL REGION: Asia
COUNTRY: Nepal
ETHNICITY: Sherdukpen (?)
DESCRIPTION: Citipati (Lord of the Graveyard) Mask
CATALOG ID: ASNP007
MAKER: Unknown
CEREMONY: Cham Dance
AGE: late 19th century
MAIN MATERIAL: charred wood
OTHER MATERIALS: N/A
The Cham dance is a classical masked ritual performed by Himalayan Buddhist monks to celebrate the drupchens, or long ceremonies.  Each mask and costume signifies a god, demon, human or animal spirit, or clown that entertains as it instructs in religious history, mythology, and morality.
This mask represents Citipati, the Lords of the Funeral Pyre, who trace their origin not to Buddhism but the earlier Himalayan Bon religion, probably in the 8th century CE. Citipati supposedly originated as two ascetics who were so deep in meditation that they did not sense the thief who encountered and killed them. Citipati accordingly frequently appears in twin male and female guises. They protect the cemeteries.
:
https://www.maskmuseum.org/wp-content/uploads/Asia-Nepal-Citipati-1a.png
1000
1000
Curator
https://www.maskmuseum.org/wp-content/uploads/sf-website-logo.svg
Curator
2017-11-14 08:52:32
2023-11-12 08:24:09
Citipati