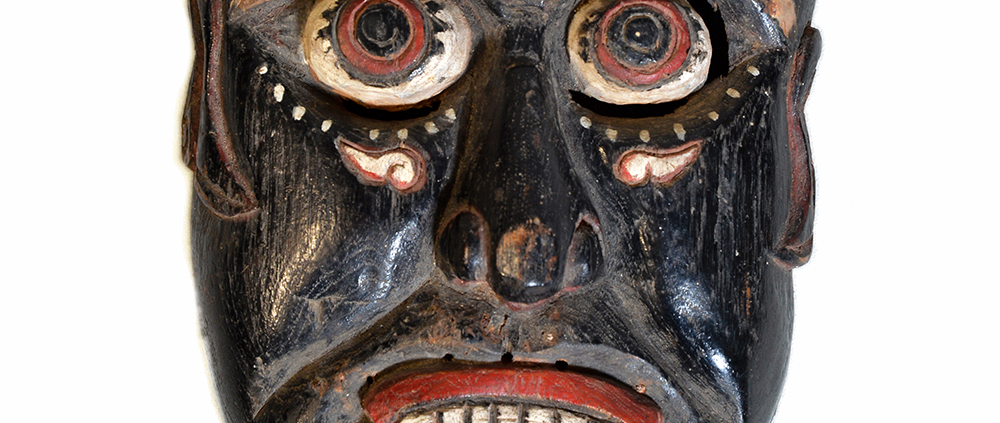 TITLE: Lombok Raksa
TYPE: face mask
GENERAL REGION: Asia
COUNTRY: Indonesia
SUBREGION: Lombok
ETHNICITY: Sasak
DESCRIPTION: Raksa (demon) mask
CATALOG ID: ASID038
MAKER: Unknown carver from the town of Loyok in Sikur
CEREMONY: Wayang Wong Dance Drama
FUNCTION: Celebration; Entertainment
AGE: 1960s
MAIN MATERIAL: candelnut wood
OTHER MATERIALS: paint
The Wayang Wong dance drama of Indonesia centers around the Hindu epics, the Ramayana and the Mahabharata. These epics revolve around the god Rama and his battle with the demon king Ravana, who has abducted Rama's wife. In the end, Rama retrieves her with the help of the wily monkey king, Hanuman.
Although Wayang Wong is best known on the islands of Java and Bali, it has also made its way to the Sasak people of Lombok. Masks from this region exhibit characteristics of both Javanese and Balinese styles, with elements unique to the Sasak as well. The character represented by this mask is a raksa or raksha, or demon who serves Ravana.
:
https://www.maskmuseum.org/wp-content/uploads/Asia-Indonesia-Lombok-Sasak-Topeng-Raksa-1a.png
1000
1000
Curator
https://www.maskmuseum.org/wp-content/uploads/sf-website-logo.svg
Curator
2017-06-07 10:15:20
2023-11-12 08:23:14
Lombok Raksa