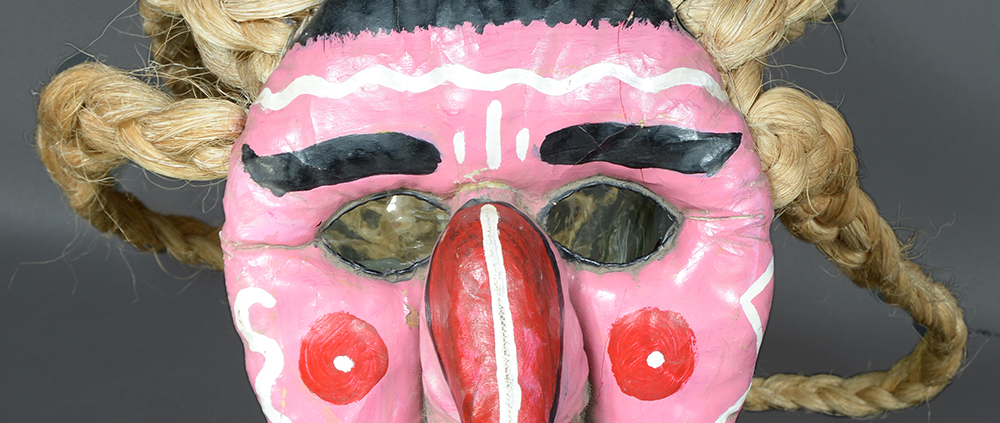 TITLE: Loco Mask
TYPE: face mask
GENERAL REGION: Latin America
COUNTRY: Peru
SUBREGION: Huánuco District
ETHNICITY: Quechua
DESCRIPTION: Loco (Crazy Man) Mask
CATALOG ID: LAPE014
MAKER: Unknown
CEREMONY: Carnival
AGE: 1970s
MAIN MATERIAL: glove leather
OTHER MATERIALS: cardboard; wool stuffing; plant fiber; stitching; paint
Carnival is celebrated throughout the Catholic world with parades and other festivities, often including masqueraders. It is the celebration before the fasting season of Lent. In Peru, as in most of Latin America, Carnival is celebrated with masked dances and parades.
This loco, or crazy man, mask comes from the region of Huánaco in central Peru. It is popularly used by masqueraders to frighten children.
:
https://www.maskmuseum.org/wp-content/uploads/Latin-America-Peru-Loco-Mask-01a.png
1000
1000
Curator
https://www.maskmuseum.org/wp-content/uploads/sf-website-logo.svg
Curator
2019-08-13 10:12:30
2023-11-12 08:24:33
Loco Mask