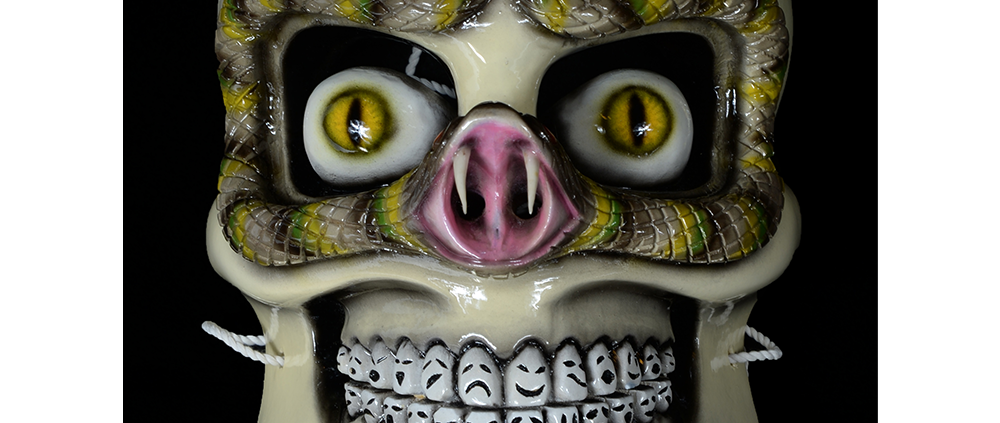 TITLE: Moor (Calavera) Mask
TYPE: face mask
GENERAL REGION: Latin America
COUNTRY: Mexico
SUBREGION: Veracruz
ETHNICITY: Nahua
DESCRIPTION: Moro (Moor) Mask in the form of a Calavera con Serpientes (Skull with Snakes)
CATALOG ID: LAMX145
MAKER: Rafael Mesa Oliva (1978- , Naolinco de Victoria)
CEREMONY: Fiesta de San Mateo (Danza de los Pilatos)
AGE: 2022
MAIN MATERIAL: wood
OTHER MATERIALS: oil-based paint; lacquer; plastic; silicon glue; string
The Danza de los Pilatos, also called La Danza de los Moros y Cristianos (Dance of the Moors and Christians), is an important celebration in the Mexican state of Veracruz. The dance reenacts the reconquest Spain from the Saracens by the European Christians. The dance arose from the teachings of missionaries as part of an effort to instill respect for and fear of the Spaniards in the indigenous peoples, and to convince them that the victory of Christianity over other faiths—by violence whenever necessary—was inevitable.
The dance is still performed widely in Mexico, including in Mexico State, Michoacán, Puebla, and Veracruz. Characters vary depending on locality, although they always include "Christians" or "Spaniards" and Moors. In Naolinco, Veracruz, the dance is performed on the holiday of the town patron saint, St. Matthew (Fiesta de San Mateo), celebrated on Sept. 20-21 every year.  There, Moors take many forms, including devils, pirates, clowns, or, as here, skeletons. This mask represents a Moor in the form of a skeleton (calavera), with frightful decorations on its face. It was carved by the master craftsman, Rafael Mesa Oliva.
For more on masks from Veracruz, see Bryan J. Stevens, Mexican Masks and Puppets: Master Carvers of the Sierra de Puebla (Atglen, Pennsylvania: Schiffer Pub'g, 2012).
A brief video with highlights of the Danza de los Moros y Cristianos from Naolinco's 2018 Fiesta de San Mateo.
:
https://www.maskmuseum.org/wp-content/uploads/Latin-America-Mexico-Veracruz-Moor-Snake-Skull-3a.png
1000
1000
Curator
https://www.maskmuseum.org/wp-content/uploads/sf-website-logo.svg
Curator
2022-03-08 22:46:19
2023-11-12 08:24:51
Moor (Calavera) Mask