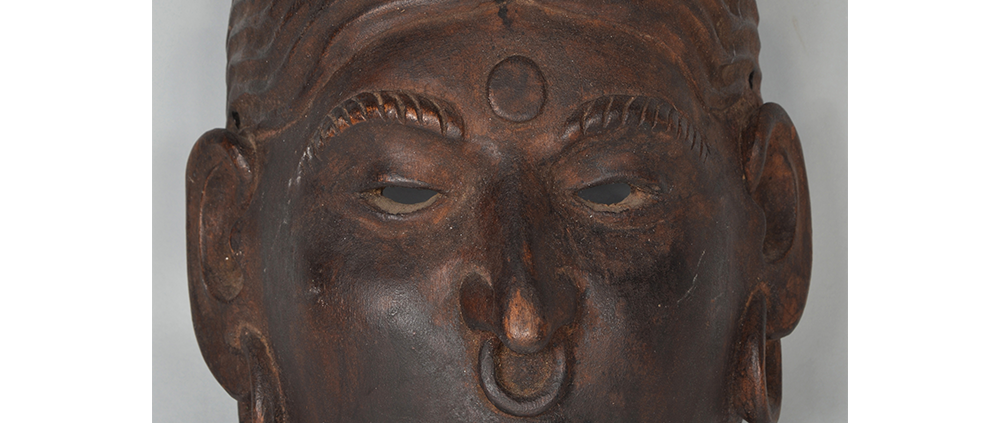 TITLE: Monpa Goddess Mask
TYPE: face mask
GENERAL REGION: Asia
COUNTRY: Bhutan
SUBREGION: Eastern Bhutan
ETHNICITY: Monpa
DESCRIPTION: Hindu Goddess Mask
CATALOG ID: ASBT002
MAKER: Unknown
CEREMONY: Cham Dance
FUNCTION: Celebration; Entertainment
AGE: ca. 1960s
MAIN MATERIAL: wood
OTHER MATERIALS: pigment
The Monpa people are a small ethnic group, estimated at around 78,000 persons, who inhabit Tibet, the Indian state of Arunachal Pradesh, and Bhutan.  They are a nomadic people who rely heavily on grazing herds for subsistence.  The Monpa are primarily Buddhist, and their masks are typically worn at monastery celebrations known as Cham Dances to bless the sowing of the grain, pray for a bountiful harvest, and entertain the public.  This mask, representing a Hindu goddess, demonstrates the syncretism of Buddhism and Hinduism in the region.
:
https://www.maskmuseum.org/wp-content/uploads/Asia-Bhutan-Monpa-Mask-1a.png
1000
1000
Curator
https://www.maskmuseum.org/wp-content/uploads/sf-website-logo.svg
Curator
2017-11-07 08:34:49
2023-11-12 08:24:07
Monpa Goddess Mask