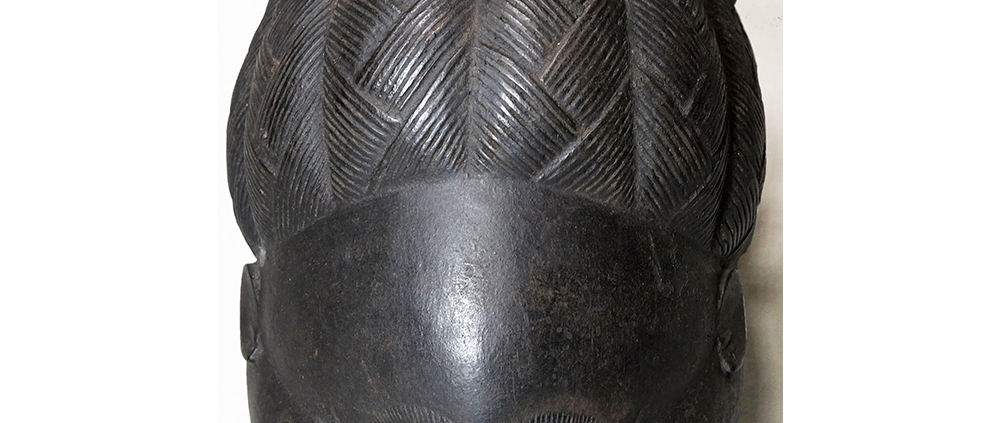 TITLE: Mende Sowei Mask
TYPE: crest mask
GENERAL REGION: Africa
COUNTRY: Sierra Leone
ETHNICITY: Mende
DESCRIPTION: Sande Society Sowei Mask
CATALOG ID: AFSL002
MAKER: Unknown
CEREMONY: Sande Society
AGE: ca. 1950s
MAIN MATERIAL: wood
OTHER MATERIALS: N/A
The Mende people of Sierra Leone is unusual in having a female secret society with a masking tradition exclusively its own.  The Sande Society uses sowei (also called sowo) crest masks during girls' initiation rituals involving adulthood and genital mutilation. The mask represents the Mende conception of an ideal woman. The sowei dancer, known as ndoli jowei, wears the mask atop the head with a full body costume of dark raffia fiber attached, so that no part of the dancer is visible. Ndoli jowei masked dancers may also appear at important social events, such as visits of foreign dignitaries and funerals of important members of society. Men carve the mask but cannot participate in the ritual.
:
https://www.maskmuseum.org/wp-content/uploads/Africa-Sierra-Leone-Mende-Sande-Society-Helmet-1a.png
1000
1000
Curator
https://www.maskmuseum.org/wp-content/uploads/sf-website-logo.svg
Curator
2017-06-07 14:25:23
2023-11-12 08:23:14
Mende Sowei Mask