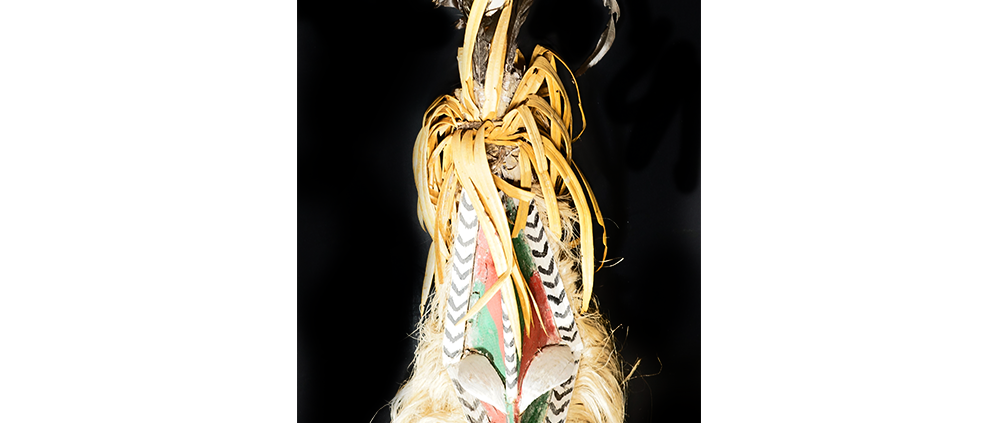 TITLE: Rom Mask
TYPE: helmet mask
GENERAL REGION: Oceania
COUNTRY: Vanuatu
SUBREGION: Ambrym Island
ETHNICITY: Melanesian (Ni-Vanuatu)
DESCRIPTION: Rom mask
CATALOG ID: OCVU001
MAKER: Unknown
CEREMONY: Rom Kon
PURPOSE: secret society; social control; spirit invocation; status
AGE: ca. 2000
MAIN MATERIAL: palm spathe
OTHER MATERIALS: bamboo, coconut fiber, hemp, leaves, feathers, pigment
The Rom Kon ceremony is performed by male secret society members to the beat of drums and seed shakers.  The remainder of the costume is composed of dried banana leaves, and each Rom dancer holds a wooden carving that symbolically represents a weapon.  The Rom dancers themselves represent evil spirits who form a wide circle filled by Namba dancers.  The participants sing songs and chant stories as they dance.  Gradually the pace builds until the ceremony reaches a loud and feverish pitch, then ends.
The right to make or wear a sacred mask carries high costs in Ambrym society.  Rom masks invoke the spirit of ancestors (generally the grandfather) and are important agents of social control.  The masks and costumes must be destroyed or disposed of after a dance to ensure the spirit does not haunt the owner.  The dances only occur between July and September, or at special celebrations, such as for the for the appointment of a chief.
:
https://www.maskmuseum.org/wp-content/uploads/Oceania-Vanuatu-Ambrym-Rom-Kon-1a.png
1000
1000
Curator
https://www.maskmuseum.org/wp-content/uploads/sf-website-logo.svg
Curator
2017-03-13 09:42:40
2023-11-12 08:22:54
Ambrym Rom Mask