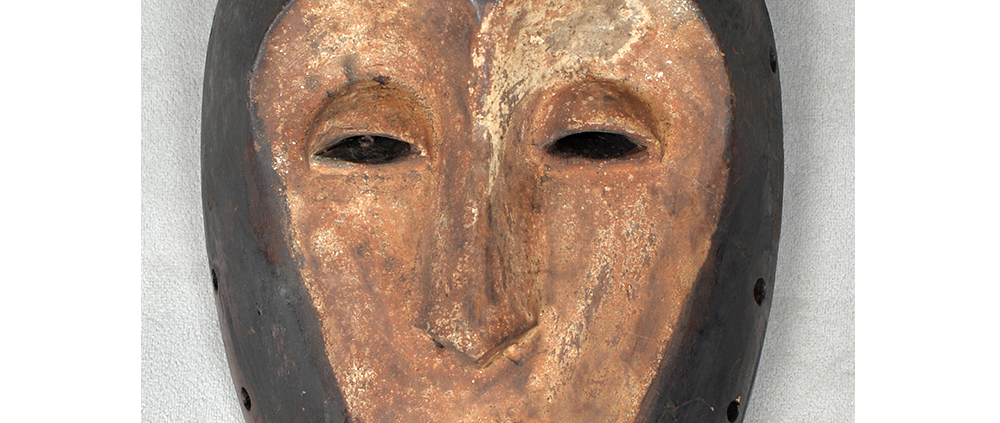 TITLE: Lega Muminia Mask
TYPE: face mask
GENERAL REGION: Africa
COUNTRY: Congo, Democratic Republic of
ETHNICITY: Lega
DESCRIPTION: Muminia Mask
CATALOG ID: AFCD014
MAKER: Unknown
CEREMONY: Bwami Society
FUNCTION: Adult Initiation; Secret Society; Status
AGE: ca. 1980s
MAIN MATERIAL: wood
OTHER MATERIALS: kaolin clay
The Lega people of the Democratic Republic of Congo use masks in a very wide variety of ways, but primarily for initiation into adulthood and to confirm status. The Bwami Society exercises authority over many aspects of social and religious life, including initiation.  All Lega masks are therefore Bwami Society masks. Small masks (lukwakongo) are used for identification and worn on the body or are hung on a fence to represent children of the ancestors. Larger masks, such as this muminia mask, are worn on the face or top of the head. The word muminia means "necessary for initiation" and is worn by both the lowest grade members of the Bwami Society and the two highest ranks (Yananio and Kindi).
For more on Lega masking traditions, see Daniel Biebuyck, Lega Culture: Art, Initiation, and Moral Philosophy among a Central African People (University of California Press, 1973).
:
https://www.maskmuseum.org/wp-content/uploads/Africa-DRC-Lega-Muminia-2a.png
1000
1000
Curator
https://www.maskmuseum.org/wp-content/uploads/sf-website-logo.svg
Curator
2017-09-30 08:27:45
2023-11-12 08:23:56
Lega Muminia Mask