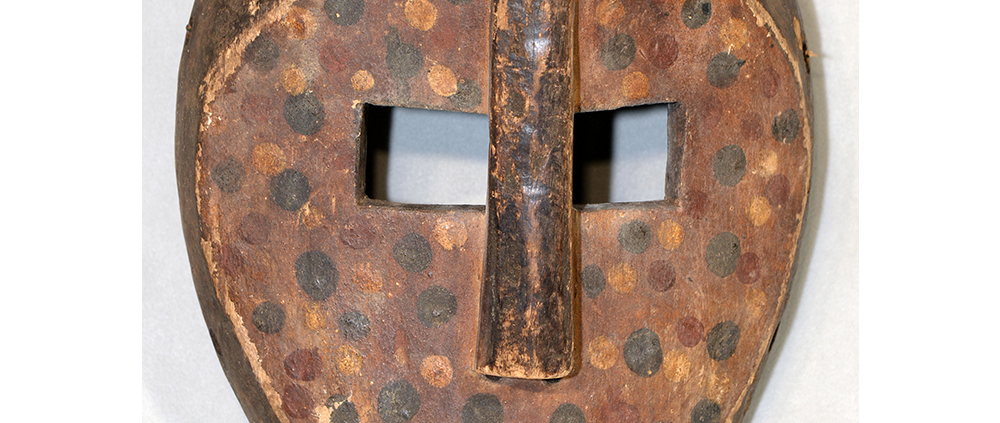 TITLE: Kumu Nsembu Mask
TYPE: face mask
GENERAL REGION: Africa
COUNTRY: Democratic Republic of Congo
ETHNICITY: Kumu
DESCRIPTION: Nsembu Nkunda Society Mask
CATALOG ID: AFCD019
MAKER: Unknown
CEREMONY: Secret Society; Adult Initiation; Divination
AGE: 1980s-1990s
MAIN MATERIAL: wood
OTHER MATERIALS: kaolin; pigment
The Kumu or Komo people inhabit the Ituri rainforests in the eastern part of Congo.  They are agriculturalists with animist traditions.
A culturally important ritual for the Kumu people is the circumcision of boys as they enter adulthood.  The nsembu mask is used exclusively by members of the Nkunda Secret Society for the purposes of adult initiation. They also use the mask for divination under the effects of hallucinogens.  The mask itself represents the diviner's spirit.  Kumu masks are somewhat rare, but the known examples tend to have wide open eyes and mouths, frequently with sharp teeth.
:
https://www.maskmuseum.org/wp-content/uploads/Africa-DRC-Kumu-Nsembu-1a.png
1000
1000
Curator
https://www.maskmuseum.org/wp-content/uploads/sf-website-logo.svg
Curator
2017-05-10 08:11:36
2023-11-12 08:22:55
Kumu Nsembu Mask