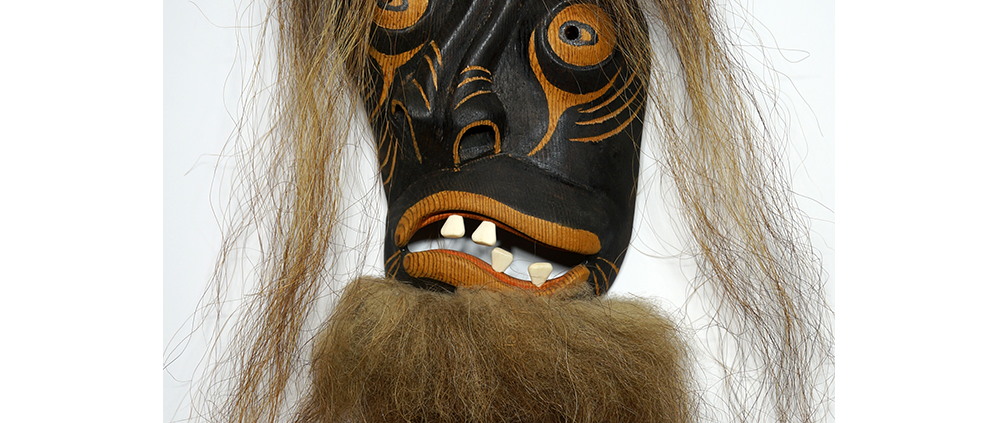 TITLE: Kalaallit Inuit Mask
TYPE: face mask
GENERAL REGION: North America
COUNTRY: Greenland
SUBREGION: Western Greenland
ETHNICITY: Kalaallit Inuit
DESCRIPTION: Distorted story-telling mask
CATALOG ID: NAGL001
MAKER: Unknown maker
CEREMONY: Uaajeerneq
AGE: ca. 1980s
MAIN MATERIAL: red cedar wood
OTHER MATERIALS: animal fur; pigment; sperm whale tooth
Uaajeerneq (pronounced ūa-ayernerk) is an ancient ritual in which an individual dresses in a mask and possibly a woman's clothing and sings, drums, and dances for the entertainment of the tribe. The dance drama also served to reinforce traditional Inuit values and teach the young lessons about survival and morality. It was formerly part of the Aasivik, a summer gathering of distant tribes that resolved important social issues.
This mask originates with the Kalaallit Inuit, the largest indigenous group on the massive island of Greenland and inhabitants of its western portion. Today, the Tunumiit Inuit of eastern Greenland are the most active practitioners of Uaajeerneq, although the traditional masquerade is increasingly replaced by less expensive face painting.
:
https://www.maskmuseum.org/wp-content/uploads/North-America-Greenland-Kalaallit-Inuit-1a.png
1000
1000
Curator
https://www.maskmuseum.org/wp-content/uploads/sf-website-logo.svg
Curator
2017-07-12 08:07:47
2023-11-12 08:23:23
Kalaallit Inuit Mask