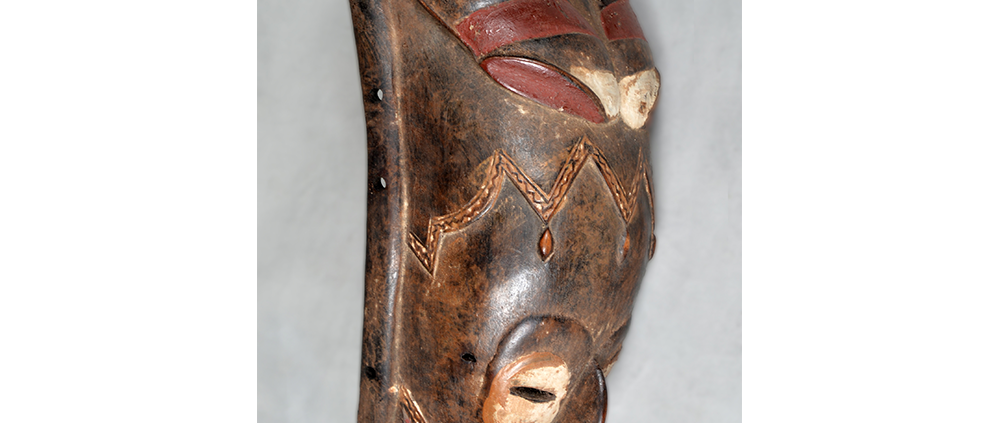 TITLE: Guro Zamble
TYPE: crest mask
GENERAL REGION: Africa
COUNTRY: Côte d'Ivoire
ETHNICITY: Guro
DESCRIPTION: Zamble Mask
CATALOG ID: AFCI018
MAKER: Unknown
CEREMONY: Celebration; Entertainment; Funeral
AGE: ca. 1980s
MAIN MATERIAL: wood
OTHER MATERIALS: paint
The Guro zamble mask represents a mythical animal resembling a cross between an antelope and crocodile.  It forms part of the trio of sacred masks with the gu and zaouli. In the past, gu was often presented as the wife of zamble, but in modern rituals she is usually represented as the wife of zaouli, which would make her zamble's mother. All three masks are cult objects to which sacrifices are periodically made to bring prosperity to the family that owns them and to drive away evil spirits.  In the past, the zamble may have been a "witch-hunter," but today they are danced for celebrations and as entertainment, and also at funerals and to honor ancestors.  In this latter context, zamble is especially important, because it is the only nature spirit caught and tamed by an ancestor of the Guro people.
For more on Guro masking traditions, see Eberhard Fischer, Guro (Prestel, 2008) or Anne-Marie Bouttiaux, Guro (5 Continents Editions, 2016).
:
https://www.maskmuseum.org/wp-content/uploads/Africa-Cote-dIvoire-Guro-Zamble-2a.png
1000
1000
Curator
https://www.maskmuseum.org/wp-content/uploads/sf-website-logo.svg
Curator
2017-10-03 20:14:30
2023-12-05 17:21:24
Guro Zamble