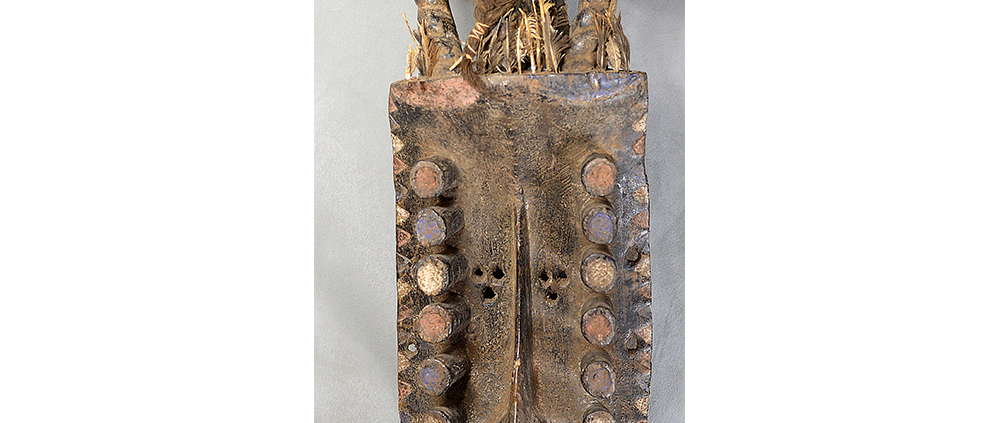 TITLE: Grebo War Mask
TYPE: face mask
GENERAL REGION: Africa
COUNTRY: Liberia
ETHNICITY: Grebo
DESCRIPTION: War Plank Mask
CATALOG ID: AFLR002
MAKER: Unknown
CEREMONY: Funeral; War Preparation
AGE: ca. 2000
MAIN MATERIAL: wood
OTHER MATERIALS: raffia; wicker; cotton cloth; pigment; feathers; hardware; hair
The Grebo people of Liberia and Côte d'Ivoire were formerly governed by a chief-priest who lived in near total isolation. Historically, they chipped their teeth to make them appear sharper and more ferocious. In modern times, Grebo governance has become more fluid and tooth chipping is very rare.
The Grebo use several types of masks, some used for adult initiation or religious ceremonies. The most commonly seen is the war mask, used by warrior societies and formed in the shape of a plank with cylindrical eyes, numbering between two and twelve. The mask is danced in preparation for war and at the funerals of warriors.
:
https://www.maskmuseum.org/wp-content/uploads/Africa-Liberia-Grebo-Plank-1a.png
1000
1000
Curator
https://www.maskmuseum.org/wp-content/uploads/sf-website-logo.svg
Curator
2017-06-07 13:48:18
2023-11-12 08:23:14
Grebo War Mask