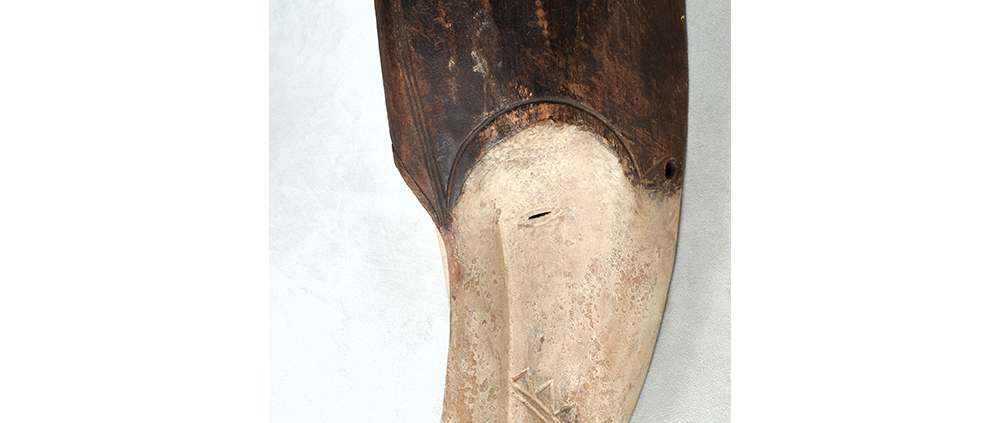 TITLE: Fang Ngil Mask
TYPE: face mask
GENERAL REGION: Africa
COUNTRY: Equatorial Guinea
ETHNICITY: Fang
DESCRIPTION: Ngil Mask
CATALOG ID: AFGQ001
MAKER: Unknown
CEREMONY: Purification; Secret Society; Social Control
AGE: late 20th century
MAIN MATERIAL: wood
OTHER MATERIALS: kaolin clay
The Fang people inhabit Equatorial Guinea, northern Gabon and Cameroon and are divided between followers of their traditional animist  religion, byeri, and the Catholicism of their French colonizers. The Ngil Secret Society is responsible for social control by assembling in the night to punish sorcerers and purify the village of evil. The Society's masks are made to resemble the powerful gorilla, and a full suit of raffia fiber is worn to enhance the effect of furriness.
:
https://www.maskmuseum.org/wp-content/uploads/Africa-Equitorial-Guinea-Fang-Ngil-1b.png
1000
1000
Curator
https://www.maskmuseum.org/wp-content/uploads/sf-website-logo.svg
Curator
2017-08-14 21:03:28
2023-11-12 08:23:30
Fang Ngil Mask