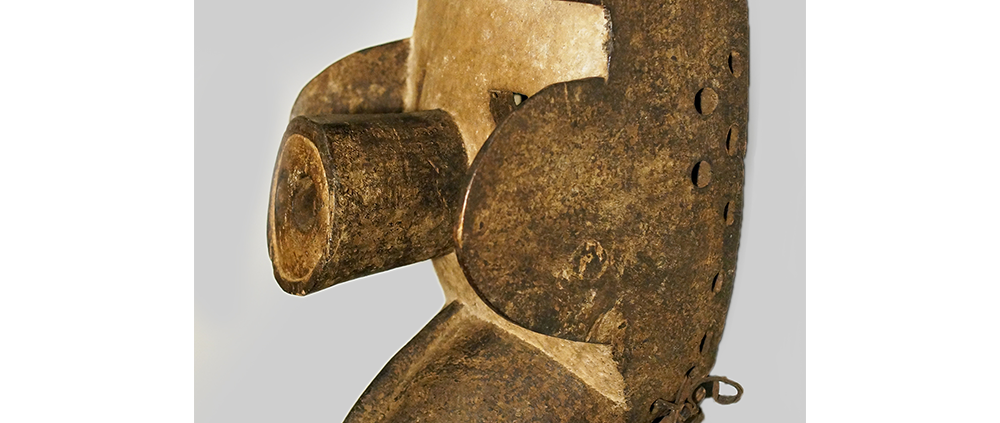 TITLE: Dan Kran Kaogle
TYPE: face mask
GENERAL REGION: Africa
COUNTRY: Côte d'Ivoire
ETHNICITY: Kran (Dan)
DESCRIPTION: Gla Society Kaogle (Chimpanzee) Mask
CATALOG ID: AFCI010
MAKER: Unknown
FUNCTION: Entertainment; Secret Society; Social Control; War Preparation
AGE: ca. 1980s
MAIN MATERIAL: wood
OTHER MATERIALS: kaolin; iron wire; leather straps
The Kran ethnic subgroup of the Dan people, and are also known as the We or Guere, living primarily in the Côte d'Ivoire.  The Gla secret society of the Kran people are charged with maintaining social control, including judicial functions, as well as officiating at harvest ceremonies and funerals.  The kaogle mask represents a chimpanzee spirit and invokes its strength and cunning, formerly to prepare for war and exercise social control. Today, its role is largely educational and for entertainment.
:
https://www.maskmuseum.org/wp-content/uploads/Africa-Liberia-Kran-Kaogle-2a.png
1000
1000
Curator
https://www.maskmuseum.org/wp-content/uploads/sf-website-logo.svg
Curator
2017-10-16 08:59:31
2023-11-12 08:24:00
Dan Kran Kaogle