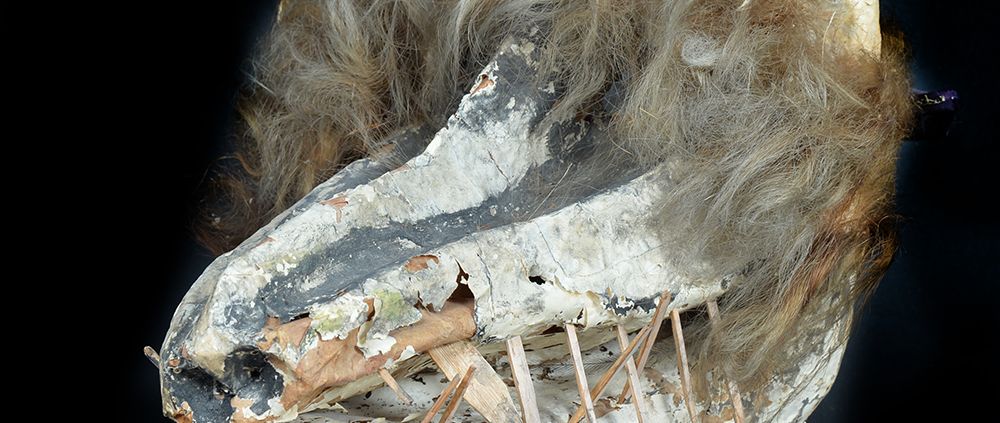 TITLE: Cora Tiznado Mask
TYPE: face mask
GENERAL REGION: Latin America
COUNTRY: Mexico
SUBREGION: Nayarit
ETHNICITY: Cora
DESCRIPTION: Tiznado (Judio) Mask
CATALOG ID: LAMX075
MAKER: Unknown
CEREMONY: Semana Santa (Holy Week)
AGE: ca. 1950s
MAIN MATERIAL: paper maché
OTHER MATERIALS: bamboo; paint; animal hair
The Cora people of Nayarit resisted Spanish colonization and proselytization long after most of Mexico succumbed, and their pre-Christian traditions still survive with a thin veneer of Catholicism. Traditionally, the Cora worship three gods, associated with the sun, the moon, and corn.
During the Semana Santa (Holy Week), Cora men paint their bodies with black and white stripes and wear judio (Jew) masks (also called borrados) designed to look like monsters and devils that carry swords and persecute the sun god, who takes the Catholic form of Jesus of Nazareth. The character is called tiznado ("covered with ash"). On Good Friday, the judios capture and kill the sun god, who is resurrected the next day and banishes the judios.
:
https://www.maskmuseum.org/wp-content/uploads/Latin-America-Mexico-Nayarit-Cora-3a.png
1000
1000
Curator
https://www.maskmuseum.org/wp-content/uploads/sf-website-logo.svg
Curator
2017-12-12 11:13:56
2023-11-12 08:24:16
Cora Tiznado Mask