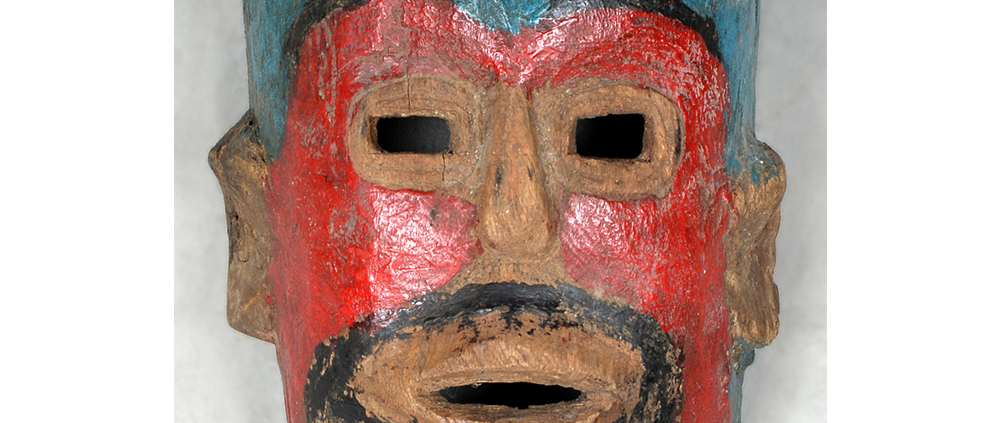 TITLE: Chewa Nyau Mask
TYPE: face mask
GENERAL REGION: Africa
COUNTRY: Malawi
ETHNICITY: Chewa
DESCRIPTION: Nyau Society mask with red, black and blue paint
CATALOG ID: AFMW001
MAKER: Unknown
CEREMONY: Adult Initiation; Funereal; Secret Society; Spirit Invocation; Status
AGE: ca. 1970s
MAIN MATERIAL: wood
OTHER MATERIALS: paint
The Chewa of Malawi and Zambia are primarily an agricultural people with a matrilineal social structure.  The Nyau Society consists of both male and female initiates, with different rituals and roles ascribed to each.  Masks are worn by male members of the society only. The masquerader is considered to embody the spirit of a dead ancestor, and therefore has immunity for any acts while masked. They are danced at most major life events, including adult initiation, the elevation of a new chief, and funerals.  Masks may be made of wood, feathered nets, or basketry that resembles an animal and fits over the entire body.
:
https://www.maskmuseum.org/wp-content/uploads/Africa-Malawi-Chewa-Nyau-1a.png
1000
1000
Curator
https://www.maskmuseum.org/wp-content/uploads/sf-website-logo.svg
Curator
2017-05-24 18:53:04
2023-11-12 08:23:04
Chewa Nyau Mask