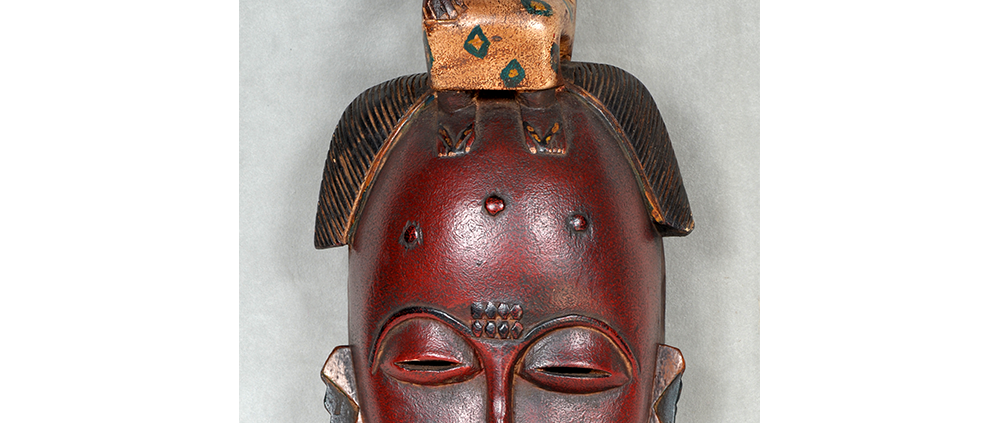 TITLE: Baule Mblo
TYPE: face mask
GENERAL REGION: Africa
COUNTRY: Côte d'Ivoire (Ivory Coast)
ETHNICITY: Baule
DESCRIPTION: Mblo (portrait) mask with chief on head
CATALOG ID: AFCI024
MAKER: Unknown
CEREMONY: Mblo Celebration
AGE: ca. 2000
MAIN MATERIAL: wood
OTHER MATERIALS: paint
The Baule people of Côte d'Ivoire use many kinds of cultural masks and are known for the artistry and skill of their carvers. The Mblo celebration serves primarily as entertainment and the conferring of social status on certain honored individuals.  At the end of the Mblo celebration, portrait masks are danced individually in a series of increasing complexity. Each mask represents an honored villager.  This specific mask represents a chief, as indicated by the status symbol atop the head.
:
https://www.maskmuseum.org/wp-content/uploads/Africa-Cote-dIvoire-Baule-Mblo-2a.png
1000
1000
Curator
https://www.maskmuseum.org/wp-content/uploads/sf-website-logo.svg
Curator
2017-09-04 09:18:34
2023-11-12 08:23:42
Baule Mblo