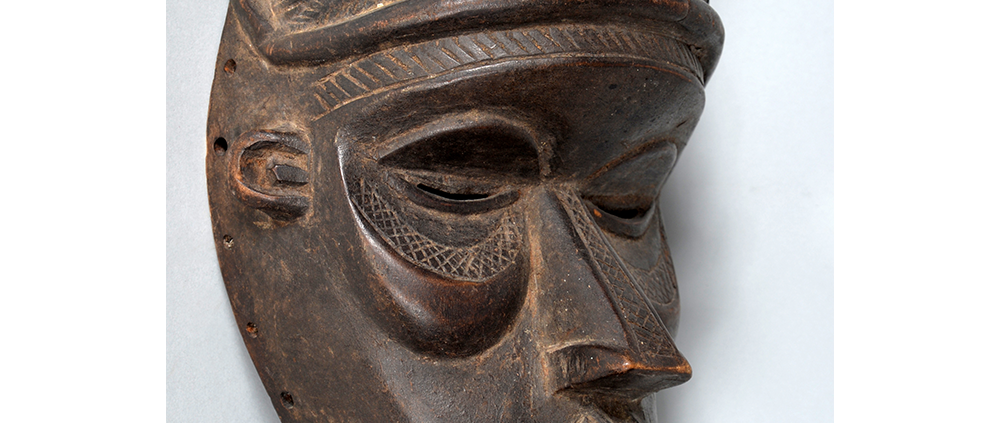 TITLE: Bassa Geh-Naw
TYPE: forehead mask
GENERAL REGION: Africa
COUNTRY: Liberia
ETHNICITY: Bassa
DESCRIPTION: Geh-Naw Nor Society Forehead Mask
CATALOG ID: AFLR001
MAKER: Unknown
CEREMONY: Nor Society
FUNCTION: Adult Initiation; Celebration; Secret Society
AGE: ca. 1980s
MAIN MATERIAL: hardwood
OTHER MATERIALS: N/A
The Bassa people inhabit the central coastal region of Liberia. They have several secret societies for both males and females, and some societies have socially important masking functions. The geh-naw mask is used by the Nor Society.  It is fixed to a wicker framework and worn on the forehead over a cloth and raffia costume during adult initiation ceremonies for boys. The dancer glides around to the beat of drums, seeing only through holes in the basketry sustaining the mask.
:
https://www.maskmuseum.org/wp-content/uploads/Africa-Liberia-Bassa-Geh-naw-1b.png
1000
1000
Curator
https://www.maskmuseum.org/wp-content/uploads/sf-website-logo.svg
Curator
2017-08-31 08:57:47
2023-11-12 08:23:39
Bassa Geh-Naw