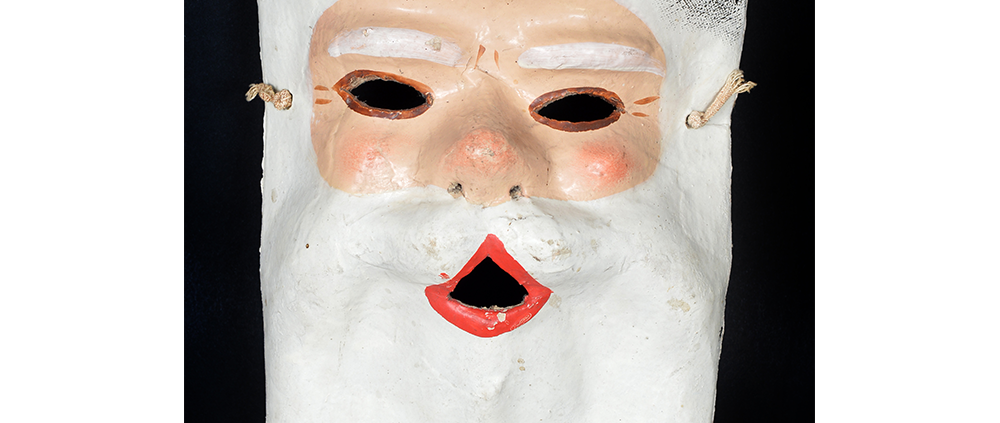 TITLE: Ded Moroz
TYPE: face mask
GENERAL REGION: Europe
COUNTRY: Russia
SUBREGION: Unknown
ETHNICITY: Russian
DESCRIPTION: Ded Moroz (Grandfather Frost) Mask
CATALOG ID: EURU002
MAKER: Unknown
CEREMONY: Novy God (New Year's Holiday)
AGE: ca. 1950s
MAIN MATERIAL: paper maché
OTHER MATERIALS: primer; paint; lacquer; string
The character Ded Moroz, or Grandfather Frost, is a traditional Slavic version of Santa Claus, who delivers gifts to good children on New Year's Eve, as opposed to Christmas. He was accompanied by Snegurochka (Snow Maiden), his granddaughter and helper, and is believed to live in the small western Russian town of Veliky Ustyug. He wears long, silver and blue robes and a red furred cap or snowflake crown, carries a magic staff, and sometimes rides a snow sled pulled by horses (troika). The character is believed to predate Christianity and originate in a Slavic winter wizard born of Slavic pagan gods.
The Soviet Union strongly discouraged depictions of Ded Moroz as bourgeois and religious, but remained popular nonetheless as the symbol of New Year's Holiday, which replaced the forbidden Christmas. In fact, the Dynamo Regional Council, a Soviet fitness and sports promotion organization, organized the production and sale of many kinds of New Year's mask in many towns, including Leningrad, Rzhev, Vyshny Vokochok, Saratov, and Yaroslavl. Witches, animals, doctors, and even masks representing the Devil were sold.
The masks were probably designed by the artist S.M. Nyuhin, but little is known about the specific craftswomen who made them. They were shaped from mashed paper on gypsum molds; dried with electric heaters; cut and pierced; primed with oil, chalk and glue; and painted and lacquered.
:
https://www.maskmuseum.org/wp-content/uploads/Europe-Russia-Ded-Moroz-1a.png
1000
1000
Curator
https://www.maskmuseum.org/wp-content/uploads/sf-website-logo.svg
Curator
2017-10-02 23:12:22
2023-11-12 08:23:57
Ded Moroz