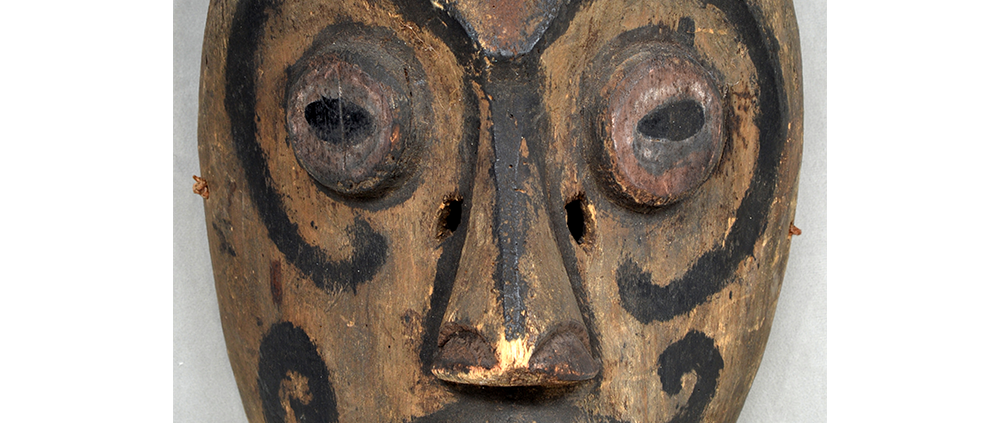 TITLE: Iban Shaman Mask
TYPE: face mask
GENERAL REGION: Oceania
COUNTRY: Malaysia
SUBREGION: Borneo (Sarawak)
ETHNICITY: Dayak (Iban)
DESCRIPTION: Shaman Mask
CATALOG ID: OCMY001
MAKER: Unknown
CEREMONY: Unknown
FUNCTION: Agriculture; Purification
AGE: 1930s
MAIN MATERIAL: wood
OTHER MATERIALS: natural pigment
Not much is known about the masked ceremonies of the Iban people of Sarawak, Borneo Island. This mask dates to the 1930s, possibly earlier, and represents a demon.  It has affinities to the masks of other Dayak peoples elsewhere on Borneo. Such masks were most probably used to drive away evil spirits from the village during important ceremonies, such as funerals, and from crop fields.
:
https://www.maskmuseum.org/wp-content/uploads/Oceania-Malaysia-Sarawak-Borneo-Dayak-Iban-1a.png
1000
1000
Curator
https://www.maskmuseum.org/wp-content/uploads/sf-website-logo.svg
Curator
2017-10-10 09:41:52
2023-11-12 08:24:00
Iban Shaman Mask